"I love him so much it's like a thread piercing me. Punching holes. Dragging through. Stitching love into me. I'll never be able to untangle myself from this feeling."- Lucy, The Hating Game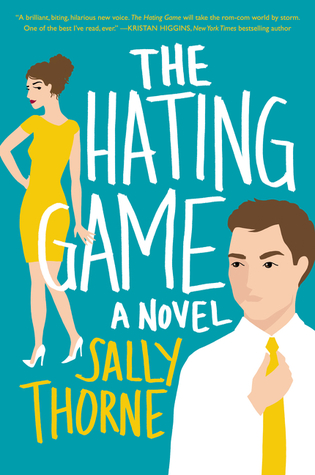 Title: The Hating Game
Author: Sally Thorne
Publication Date: August 9, 2016
Publisher: William Morrow
Links: Goodreads | Amazon | Barnes & Nobles | Book Depository 
Rating: ★★★★
Synopsis via Goodreads: Debut author Sally Thorne bursts on the scene with a hilarious and sexy workplace comedy all about that thin, fine line between hate and love.

Nemesis (n.) 1) An opponent or rival whom a person cannot best or overcome.
2) A person's undoing
3) Joshua Templeman

Lucy Hutton has always been certain that the nice girl can get the corner office. She's charming and accommodating and prides herself on being loved by everyone at Bexley & Gamin. Everyone except for coldly efficient, impeccably attired, physically intimidating Joshua Templeman. And the feeling is mutual.

Trapped in a shared office together 40 (OK, 50 or 60) hours a week, they've become entrenched in an addictive, ridiculous never-ending game of one-upmanship. There's the Staring Game. The Mirror Game. The HR Game. Lucy can't let Joshua beat her at anything—especially when a huge new promotion goes up for the taking.

If Lucy wins this game, she'll be Joshua's boss. If she loses, she'll resign. So why is she suddenly having steamy dreams about Joshua, and dressing for work like she's got a hot date? After a perfectly innocent elevator ride ends with an earth shattering kiss, Lucy starts to wonder whether she's got Joshua Templeman all wrong.

Maybe Lucy Hutton doesn't hate Joshua Templeman. And maybe, he doesn't hate her either. Or maybe this is just another game.
I have to admit, The Hating Game was so much better than I expected it to be. I'm kind of kicking myself for not requesting an ARC when I first came across it, but after seeing rave reviews from bloggers I trust, I knew I had to pick this book up soon! AND LET ME TELL YOU, THE REVIEWS DID NOT LEAD ME ASTRAY!
After the merger of Gamin Publishing and Bexley Books, Lucy Hutton and Joshua Templeman become co-workers, working side-by-side as the executive assistants for their respected CEO's. Day in and day out, these two constantly bicker and try to outwit one another with the numerous games they play. But when a new position opens up which could lead to one of being the boss of the other, the stakes are raised and tension between these two increases. Let the games begin!
THIS HAS TO BE THE CUTEST ROM-COM I'VE EVER READ! Personally, I'm not a big fan of rom-coms, but this book was so fluffy and I was so entertained by the different games these two played, my favorite one being the "Or Something Game"! Who knew office romances could be so wild?!
THIS BOOK ALSO HAS IS AN ENEMIES-TO-LOVERS ROMANCE, WHICH IS ONE OF MY FAVORITE TROPES EVER! Lucy and Josh started out hating each other, always trying to one up the other to see who was best. My favorite thing about this book had to be the dialogue. THE WITTY BANTER WAS ON POINT! These two did not hold back and I loved how unfiltered they were. THEN THERE WAS THE ANGST! This is a slow-burning romance, and when I say slow, I MEAN SLOW! You definitely need to have some patience with these two, but I'm telling you it's so worth the wait. 
I absolutely adored Lucy right from the beginning. While she may be small in stature, she is still fierce. She is a hard worker and even though she may not be exactly where she wants to be in life, she still puts her best foot forward in hopes that one day, all her hard work will pay off. I also loved her internal dialogue and I had so much fun reading this book from her POV. Josh on the other hand took some time to warm up to. Once we start to get to know him better, I realized that he wasn't as much of a bad guy as he was trying to make himself out to be. HE IS ACTUALLY A NICE GUY! These two together were a riot. Lucy is all about instant gratification, and Josh wants to take things slow, so it was pretty funny watching Lucy try to seduce Josh. NERDY ROMANCES FTW!
Overall, The Hating Game was an entertaining, slow-burning romance with all the funnies. Sally Thorne's debut was a hit and I feel the need to pick up more nerdy romances. I wasn't even aware that nerdy romances were a thing and now I'm wondering where they have been all my life. I NEED MORE! If you love enemies-to-lovers and office romances I totally recommend you check this book out. It will make you laugh and happy cry until the very last page!