"We're all ugly, Ryen. The only difference is, some hide it and some wear it."- Misha, Punk 57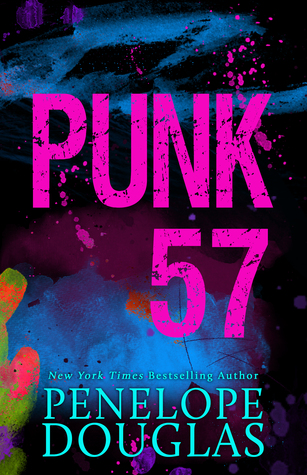 Title: Punk 57
Author: Penelope Douglas
Publication Date: October 21, 2016
Publisher: Penelope Douglas LLC
Links: Goodreads | Barnes & Nobles | Book Depository
Rating: ★★★★
Synopsis via Goodreads: "We were perfect together. Until we met."

Misha

I can't help but smile at the words in her letter. She misses me.

In fifth grade, my teacher set us up with pen pals from a different school. Thinking I was a girl, with a name like Misha, the other teacher paired me up with her student, Ryen. My teacher, believing Ryen was a boy like me, agreed.

It didn't take long for us to figure out the mistake. And in no time at all, we were arguing about everything. The best take-out pizza. Android vs. iPhone. Whether or not Eminem is the greatest rapper ever…

And that was the start. For the next seven years, it was us.

Her letters are always on black paper with silver writing. Sometimes there's one a week or three in a day, but I need them. She's the only one who keeps me on track, talks me down, and accepts everything I am.

We only had three rules. No social media, no phone numbers, no pictures. We had a good thing going. Why ruin it?

Until I run across a photo of a girl online. Name's Ryen, loves Gallo's pizza, and worships her iPhone. What are the chances?

F*ck it. I need to meet her.

I just don't expect to hate what I find.

Ryen

He hasn't written in three months. Something's wrong. Did he die? Get arrested? Knowing Misha, neither would be a stretch.

Without him around, I'm going crazy. I need to know someone is listening. It's my own fault. I should've gotten his number or picture or something.

He could be gone forever.

Or right under my nose, and I wouldn't even know it.
Can you say book hangover because this book gave me one of the WORST book hangover I have ever experienced. I haven't written a review in almost a month because of this book. This book also threw me off my reading game and I have yet to read a book that gives me the same thrills and chills as this one did. Needless to say, this book was pretty damn amazing and should be on every romance reader's TBR!
Punk 57 is a story about childhood pen pals who have never met face-to-face. Although they've been writing to each other for years, Misha Lare and Ryen Trevarrow have both agreed to never meet in person as they fear that it may ruin the connection they share. But an unexpected turn of events will bring these two together and when they finally come face to face, what they expect is not what they get.
I went into Punk 57 with low expectations because I honestly wasn't quite sure what to expect when it came to this book. I've seen mixed reviews about this author's previous works which is why I has initially held off reading her books, but the cover of Punk 57 caught my eye and I was hoping that the story would be just as beautiful as its cover. Punk 57 starts off slow and this slow-pacing is steady throughout the book. It took me a few chapters to become invested in this story, but once I did, I couldn't stop reading. The suspenseful tone had me turning each page as I tried to guess what happens next. The thing I loved most about this book is how creative it was. Music is what connects and brings Misha and Ryen together, so throughout this book there are lyrics and even full length songs which I personally enjoyed since I'm such a music junkie.
While the writing and creative elements were so spot on in this book, what's going to make or break this book for most readers will be the characters. IF YOU CAN NOT TOLERATE UNLIKABLE AND SOMEWHAT PROBLEMATIC CHARACTERS, THIS IS NOT A BOOK FOR YOU! Misha and Ryen have got to be two of the most flawed, selfish and self-centered characters I have ever met. I really hated Misha for majority of the book because he's such an ass and while I understand why he behaves the way he does, I still hated him. Ryen on the other hand I have mixed feelings about. She too annoyed me at the beginning, but I also found her to be relatable as she tries to be the girl "everyone expected her to be" instead of just being herself. Despite their selfish ways, these two do manage to redeem themselves in the end and learn and grow from their past mistakes. As for the romance, IT WAS SO DAMN HOTT! I wasn't expecting the sexy times to be so wild and I had to keep reminding myself that these two were still in high school.
What's refreshing about this book and the reason why I ended up enjoying it as much as I did was because there was a moral to the story. How many romances have you read where you can say that you actually learned something by the time you finished it? The overall message is an important one, a powerful one that reminds us that our words matter and that we should choose them wisely, so please, CHOOSE THEM WISELY!
Punk 57 is a creative, unpredictable, dark romance with a powerful message that will resonate with many readers. I seriously need to get my hands on Penelope Douglas' other books to see what I've been missing out. Hopefully, those books won't give me a book hangover that puts me in a reading slump for a month because I don't think I can manage another one for a while!