"You're going home. But I can't. I won't. Not unless you're there. Because you are home. Laura, you're home to me."- Rhys, Lessons in Letting Go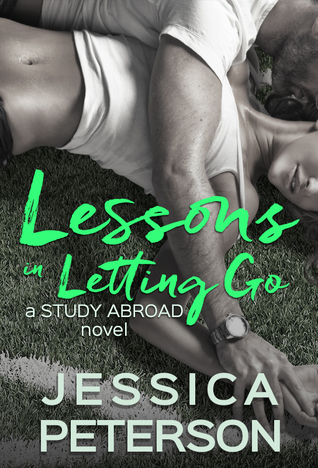 Title: Lessons in Letting Go
Author: Jessica Peterson
Series: Study Abroad
Publication Date: December 12, 2016
Publisher: Peterson Paperbacks
*I received an ARC from the author in exchange for an honest review.*
Rating: ★★★
Synopsis via Goodreads: "Ten minutes ago, I was just an American student studying abroad in Spain.  But now?  Now I'm a professional soccer player's muse.  His good luck charm…"

Soccer star Rhys Maddox's recovery from an injury isn't going well—until one night with a beautiful American and a few terrible pick-up lines changes everything.  With Laura at his side, he plays smarter, runs faster, and fights harder than he ever has on the pitch.  She's just the good luck charm he needs to turn his flailing career around.

Laura Bennet begins her semester in Madrid with plans to ditch bad habits and worse boyfriends. But when she unexpectedly gets caught up in Rhys's A-list life, her plans are put on hold.  Who wouldn't skip class to fly on a private jet with a studly Welsh footballer?  It's a no brainer, or so she thinks.  Turns out Rhys's glamorous lifestyle hides an obsession with appearances—an obsession that makes her totally miserable. Determined to take back her happiness, Laura decides to dump Rhys and tackle a "Spain Bucket List" on her own.

But Rhys isn't letting his good luck charm go without a fight. He's spent his entire life trying to earn his way into the big leagues, and he'll do anything to win—even risk his carefully crafted image to help Laura with her bucket list. Will he be able to let go of his ego? Or will he and Laura ultimately let go of each other?
I've been eagerly awaiting Rhys and Laura's story after seeing snippets of them together in Lessons in Gravity and I needed to know more about these two. I also was excited because this is a sports romance and I'm such a sucker for a good sports romance novel, I can never pass on them!
Hoping to reinvent herself, Laura Bennet starts her new semester in Madrid letting go of excess baggage from the past. With her bucket list in hand, she's ready to experience everything Madrid has to offer. But her plans get put on hold when she meets Rhys Maddox, a famous football player and the main lead in all of her daydreams. Rhys has been stuck in a rut, but his luck starts to change after he meets Laura. As they start spending more and more time together, Laura becomes wrapped up in Rhys' extravagant lifestyle which causes her to revert to old habits in order to feel accepted. But when it all becomes too much and Laura decides to walk away, will Rhys chase after his good luck charm, or will his own baggage force him to let her go?
Going into Lessons in Letting Go, I wasn't sure what to expect since we didn't really know much about our two main characters beforehand. While this book starts off flirty and fun, with lots of steamy moments and cheesy pick up lines, there is also a bit heaviness to the story as both of our characters are dealing with their own separate issues. Laura puts the needs of others before her own and this has unfortunately led to her feeling self-conscious and not loving herself for who she is. Rhys on the other hand is struggling to balance family obligations, football and fame. While I liked the conflicts, my main issue with the plot was that there just wasn't enough depth to it. I wanted to know more about Rhys and his family and maybe even seen them interact with him. Instead of just having Rhys tell us about his family issues, maybe we could've actually seen him fighting with his family or even show his family putting pressure on him to succeed. The same goes for Laura. I would've liked to known more about her past and what made her so self-conscious in the first place, besides just telling us that she is a people-pleaser. More showing, less telling would've ultimately made this book more enjoyable for me.
As for the characters, I had a hard time connecting with either of them in the beginning. I actually found Rhys to be very unlikable and even selfish. It takes him quite a long time before he realizes that the world doesn't revolve around him and even though he may have good intentions, the way he goes about doing things just didn't sit right with me. As for Laura, while I couldn't connect with her, I did grow to like her in the end and I loved seeing her take a stand and do what was right for her instead of continuing to suffer in silence. The lack of communication between these two also bothered me, especially since communication is key when it comes to relationships! To be honest, Laura deserved better than Rhys, but I'm happy that things worked out for them in the end.
Lessons in Letting Go was a steamy, fun read that fell short when it came to the plot and characters. Javier Montoya still remains as my favorite guy in this series so far and I'm excited to see what's in store for our next couple. I'm ready for more adventures in Spain…and maybe take a trip north to say London? 😉