"If our love was lingerie, it'd be leather, thin straps of binding that could withstand a hundred years of war and peace, fights and love-making. It would yield and give, yet never rip or break. It would be built to last, to wear forever. If our love was lingerie, it would never come off."- Trey, Love in Lingerie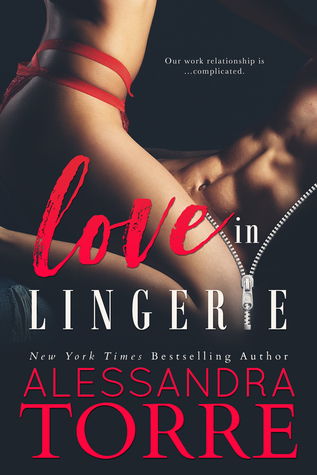 Title: Love in Lingerie
Author: Alessandra Torre
Publication Date: January 16, 2017
Publisher: Self-published
Links: Goodreads | Barnes & Nobles | Amazon
Rating: ★★★★
Synopsis via Goodreads: I hired her to fix my company, to bring Marks Lingerie back to life. I didn't expect her to become my friend. I didn't expect to fall in love with her.

The first rule of business is to never touch your employees. I think there is another rule about not falling for your best friend—a rule against imagining the curves of her body, or the way her breathing would change if I pulled down her panties and unzipped my pants.

Now, I can't wait any longer. I'm tossing out the rules.

Damn my fears.
I don't really know where to start when it comes to reviewing this book. This is my first read by Alessandra Torre and while I've heard amazing things about her previous books, I never felt the urge to actually pick up one of her books before. But when I saw the cover for Love in Lingerie, something told me I needed to drop everything and read this book as soon at released. And so I did…
Love in Lingerie is a slow-burning, angst-filled office romance that takes place over several years. Stuck at a dead-end job, Kate Martin decides to take a chance when a new position opens up at Marks Lingerie as their Creative Director. She lands the position and her new boss, Trey Marks, hopes that she will somehow find a way to save his company from going under. But that's not all Trey is hoping for as he cannot deny his attraction to Kate. But having already been burned once by mixing business with pleasure, Trey's not willing to cross those lines again…or is he?
Told from dual POVs, Alessandra Torre tells the story of a sexy, yet sweet office romance that sucked me in right from the very first page and I had a really hard time putting this book. While the cover definitely captures the sexy side of this romance, there is also a bit of a sweetness to this romance and I wasn't expecting that. The beginning of this story is actually quite hilarious with the back-and-forth banter between these two and it gave me rom-com vibes. I loved, loved, loved Alessandra's writing and how she incorporated the theme of lingerie in this story. She would end each chapter with a line that started out as "If our love was lingerie…" and I kid you not, I have all those paragraphs highlighted in my eBook.
Kate was probably my favorite POV to read from because we're not just focusing on her feelings for Trey, but we also get to see this girl who once played it safe and just settled for whatever life gave her, finally take a stand and make moves in order to get what she believed she deserved. I loved seeing her grow throughout the years and while I didn't agree with some of the choices she made, I do believe that they were necessary in order for her to become the person she was in the end. Trey was a bit surprising because I was expecting an arrogant billionaire, but he has more of a "rags to riches" story and I totally have to respect for the empire he has built. I ain't even about to lie, these two put me through hell with their "almost, but not quite yet" romance. THE ANGST WAS REAL AND EVERY TIME I THOUGHT THESE TWO WERE GOING TO GET TOGETHER IT DIDN'T HAPPEN! At about 75%, I actually threw my eReader across the room because I couldn't deal with how these two were behaving. Y'all are going to need some patients when it comes to these two, so prepare for that. 
I did want to note really quickly that this book is a bit on the kinkier side and while I'm all for kink and getting wild in romance, the particular kink in this book is not my favorite. The kink I'm talking about is  MÉNAGE (highlight to see spoiler) and while I'm not a big fan of it, the scenes involving this kink were rather brief so if you don't have a problem just skimming over them or just skipping those few pages entirely, you should be fine.
All in all, Love in Lingerie was a steamy, yet sweet office romance that I couldn't put down. The slow-burn may kill you, but the ending is so worth it (I may or may not have shed a few tears at the end). I now have the motivation to binge read all of Alessandra Torre's books, especially her darker themed books because we all know how much I love the dark reads.