"Circus is family."- Luka, Infini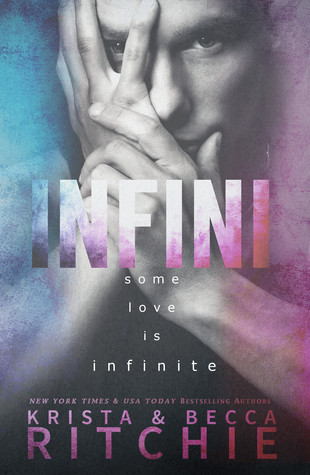 Title: Infini
Author: Krista & Becca Ritchie
Series: Aerial Ethereal
Publication Date: January 31, 2017
Publisher: Self-published
*I received an ARC from the author/publisher in exchange for an honest review.*
Rating: ★★★★★
Synopsis via Goodreads: Some love is infinite

"Don't have a best friend that's a girl" — this was the advice from my older cousin. I didn't take it. Because he followed with, "friends don't f*ck friends. And you'll want to f*ck her."

It was terrible advice.

My cousin should've told me that being best friends with Baylee Wright — since she was twelve — would be the best and worst decision of my life.

He should have told me to protect her from what was coming.

He should have told me that when a darkness crawled towards us, there'd be no safety net.

Now I've signed back on to the same Vegas acrobatic show as Baylee, working together for the first time in years. And she tells me that she's having trouble in a certain "area" of her life — because of our past.

"You can help me fix it," she says.

And then she hands me a list.
My first five start review for 2017 and I am not surprised that it is going to a book written by two of my favorite authors! I've said it before and I'll say it again, THE RITCHIE TWINS CAN DO NO WRONG! This book left me emotionally wrecked and I honestly was not expecting to be so moved by this romance. Make sure you have tissues before starting this book because you're going to need them!
It's been over four years since Luka Kotova last laid eyes on Baylee Wright after one broken rule lead to devastating consequences and ended friendship. Now the two are performers in the same acrobatic show, Infini, and despite having not spoken to each other in over four years, their feelings for one another have not changed. But things still remain the same and consequences for breaking one rule all those years ago still apply. Can Luka and Baylee keep things professional, or will their feelings for one another prove to be too hard to resist?
Infini takes us back to the circus where the stakes are high and two hearts must find their way back to each other. The second installment in the Aerial Ethereal series definitely has the forbidden romance and best-friends-to-lovers vibe going on, but ultimately, I would classify this as a second-chance romance and we all know how much I live for these types of romances! Once again, family is a major theme throughout this book and this time around there is more tension between siblings as one of the older Kotova brother, Sergei, has returned and will be working side-by-side with the rest of his siblings in the show. The three youngest Kotova siblings have not forgiven Sergei for leaving them when he had the opportunity to stay and throughout this book these four will have to work out their issues and somehow find a way to move forward from the past. My favorite sibling relationship in this book is hands down Luka, Timo and Katya's relationship. With them being the youngest Kotova's they've always had to take care of one another and look out for one another and I love this trio so much.
Now onto my favorite part of the book, our main characters Luka and Baylee. Infini is written from the dual POV of both Luka and Baylee and I enjoyed being inside both their heads and getting to see how one broken rule affected them years later. I AM SO OVER THE MOON IN LOVE WITH THIS BOOK BECAUSE WE GET CARIBBEAN REPRESENTATION AND I AM HERE FOR IT! Baylee is Jamaican-American and a girl after my own heart. She loves to dance to Soca music and craves all the food Caribbean culture has to offer and I have never been so happy to read a book that portrays my culture so accurately. Y'ALL, I WAS LITERALLY CRYING AND WAS PLAYING ALL THE GROOVY SOCA JAMS WHILE READING THIS BOOK! I also loved Bay's character because she puts her heart into everything she does, whether it be performing on stage or being there for those around her, she is always gives it her all no matter what. Luka was a bit of a surprise to say the least. In Amour Amour, he was always getting into trouble as he likes to take things without paying for them. But in Infini, we get a better understanding of Luka's character and learn the reasons for why we rarely ever see a smile on his face. While Luka's POV may have been a little rough to read at times, I was pulling for him to overcome his struggles and finally get the happiness he deserves. 
As for the romance between these two, it was a slow-burn filled with angst and tension as these two tried not to get caught and IT WAS EMOTIONAL AF! This was literally me at the last 20% of this book:
Infini was everything I wanted and more in a book and it is definitely one of my favorite reads for 2017. A slow-burning second-chance romance with great Caribbean rep. and a family that you will make you want to join the circus, this sequel will not only be a hit with fans of the Addicted series, but with romance readers in across the board! I can't wait to see which Kotova sibling we will get to read about next. I'm really hoping for a story about Timo and John, but I have a feeling that Katya has a story of her own that needs to be told. Regardless of whichever Kotova sibling gets their own story, I can't wait to return to the circus to see what happens next.