"Death is easy. Living is the hard part."- Bailey, Making Faces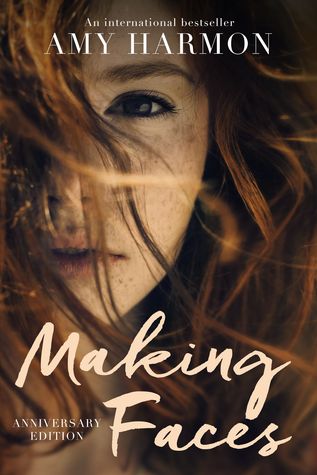 Title: Making Faces
Author: Amy Harmon
Publication Date: February 21, 2017
Publisher: Spencer Hill Press
Links: Goodreads | Amazon | Barnes & Nobles 
*I received a copy of this book from the author/publisher in exchange for an honest review.*
Rating: ★★★★
Synopsis via Goodreads: Ambrose Young was beautiful. He was tall and muscular, with hair that touched his shoulders and eyes that burned right through you. The kind of beautiful that graced the covers of romance novels, and Fern Taylor would know. She'd been reading them since she was thirteen. But maybe because he was so beautiful he was never someone Fern thought she could have…until he wasn't beautiful anymore.

Making Faces is the story of a small town where five young men go off to war, and only one comes back. It is the story of loss. Collective loss, individual loss, loss of beauty, loss of life, loss of identity. It is the tale of one girl's love for a broken boy, and a wounded warrior's love for an unremarkable girl. This is a story of friendship that overcomes heartache, heroism that defies the common definitions, and a modern tale of Beauty and the Beast where we discover that there is little beauty and a little beast in all of us.
You know that feeling when you finish a book at six in the morning and you're absolutely wrecked and you don't even know how you're expected to function for the rest of the day? That was basically how I felt after I finished Making Faces and then proceeded to cry my eyes out before dragging myself out of bed to start my day. Keep tissues on hand for this book because you're sure as hell going to need them.
Fern Taylor has been in love with Ambrose Young from the first moment she laid eyes on him. But with red frizzy locks, a mouth full of metal and freckles sprinkled all over her face, Fern believed that a boy as beautiful as Ambrose could never be hers. Big Man on Campus and loved by everyone in Hannah Lake, Ambrose Young is on his way to becoming a pro-wrestler when 9/11 happens forever changing his life. He decides to sign up to defend his country and encourages his best friends to join him as well. But when Ambrose returns home alone, he will have to find a way to move forward from this loss and Fern may just be the only one who can help him do so.
Other than the fact to 'prepare for an emotional ride', I wasn't quite sure what to expect when I started Making Faces. I didn't read the synopsis beforehand, but once I realized that this was going to be a military romance, I was sold and you couldn't tear me away from my eReader. Making Faces is a story that takes place over a number of years, constantly moving between the past and the present. It is a story about loss, faith, family, beauty and hope. I know Amy Harmon has a reputation for writing beautiful stories and I can definitely see why that is. Her writing is beautiful, raw, deep and emotional and it sucks you in. This book does have a strong Christian theme and while some might find that to be a little off-putting, I actually found to be quite refreshing considering I don't read many novels where religion plays such a strong role and a lot of the messages resonated with me.
Fern is a selfless human-being who puts the needs of others before her own. She is caring, compassionate and always has her nose stuck in a romance book and I enjoyed seeing her grow from the shy, awkward girl she once was to someone who was more comfortable in her own skin. While Ambrose may be loved by many, I felt like there were times where he felt feelings of loneliness because he wasn't sure what his purpose in life was. Coming back from war and being a changed man, he had to find a way to move forward come to terms with the fact that what happened to his friends was not his fault. The romance between Fern and Ambrose is a slow-burning one, but worth the wait because these two have their own sets of issues to work out first before they even think about coming together. I loved the message about beauty being only skin deep and that love does not see beauty, but rather it is about the goodness in your heart. But the real star of this story has got to be Baily, Fern's cousin. Bailey made this story whole and I love his personality, his spirit and the fact that he never let anything hold him back, despite his disease.
BASICALLY ME AT THE END OF THIS BOOK
Making Faces is a beautiful, thought-provoking novel with a powerful message that everyone can relate to. I now understand why all my fellow romance bloggers rave about her books and she is definitely an author who deserves all the praises she gets. I have the need to binge-read all of Amy Harmon's book, but that would involve a lot of tissues and tears and I don't think my heart can handle that right now.