"Violet is the means to an end. She's a pawn in a game I'm not sure how to win."- Vincente, Black Hearts
Title: Black Hearts
Author: Karina Halle
Series: Sins Duet
Publication Date: February 19, 2017
Publisher: Metal Blonde Books
Rating: ★★★★
Synopsis via Goodreads: For Vicente Bernal, truth is all he's known. The son of an infamous drug lord, Vicente was born to help run the family business, which means he's been raised on a throne of sordid pasts and dirty laundry, violence and pride. But when Vicente stumbles across someone he's not supposed to know about – a woman from his father's checkered past – he sets out to California to find her behind his father's back.

What Vicente doesn't expect to find in San Francisco is Violet McQueen, the woman's twenty-year old daughter. Beautiful and edgy with a vulnerability he can't resist, Violet tempts Vicente from afar and though he promised himself he'd stay away from her, curiosity and lust are powerful forces. Besides, Vicente has always gotten everything he wants – why shouldn't he have Violet too?

Soon his wants turn into an obsession, one that sweeps Violet into his games as they fall madly, deeply in love with each other, the type of first love that can drive a person mad.

But it's a love with tragic consequences.

Both the truth – and the lies – not only threaten to tear them apart, but threaten their very lives.

Someone has to pay for the sins of the fathers.

And they'll be paying the price with their souls.
It's been a while since I last read a mafia-themed book and I've been in dire need of a fix, especially since the next installment in my favorite mafia series isn't releasing anytime soon. After seeing all the promotion for Karina Halle's new book (and let me tell you the book was everywhere!), I knew I had to pick this one up as soon as it released. Black Hearts is the first novel in the Sins Duet series, which is a spin-off duology of The Artists Trilogy and The Dirt Angels Trilogy. However, YOU DO NOT HAVE TO read the two previous trilogies in order to read this duology, which is great because you can do what I did an just dive right in. Hopefully, all those teasers didn't lead me astray…
Vincente Bernal, son of a famous Mexican drug lord, is on a mission to find the woman from his father's past after coming across a picture of her in a locked wooden box. He heads out to California in hopes of getting some answers, but instead he meets Violet McQueen and despite his better judgement, he slowly finds himself falling for the aspiring photographer. But when the truth comes to light and Violet learns who Vincente really is, will she help him find the answers he's been looking for, or will Vincente's trip have been all for nothing?
I read Smut by Karina Halle last year and completely adored the rom-com smutty romance so I was very curious to see if one of her more darker-themed romances would have the same affect…AND IT DID! Black Hearts is a suspenseful, thrilling, nail-biting mafia romance that had me hooked from the first sentence. It is a story told from multiple POVs, the main two POVs being Vincente and Violet and they are told from first person, and the others being POVs of two characters from the previous series and they are told from third person. I actually liked the fact that Halle included these third person POVs because they provided information that was necessary for us to at least get somewhat of an idea about what went down in the trilogies, especially for those who haven't read them beforehand. I TRUST NONE OF THESE POVs! Between the lies, the truths and the cover-ups, I don't know what is real, what is false so I don't trust any of these characters say because they could be lying for all we know. Karina Halle was also throwing some political shade throughout this book and I was here for it! I loved all her snide remarks in the dialogue and I'm hoping that same humor is in the sequel.
It took me a few chapters to warm up to Violet and she ended up surprising me by the end. Violet is a photographer who is still trying to figure out her life. She's a bit shy and more reserved at the beginning of the book, but once she starts suspecting that her parents may be lying to her, it's like a switched flipped and this whole other side of her is set free. Violet's a badass in the making and I think she's capable of doing quite the damage on anyone who tries her. Vincente's POV was probably my favorite POV to read from. He's so full of himself, but his sarcastic attitude is what won me over. He's also not a good guy at all. His hands are dirty, but Violet is his Achilles' heel and they balance each other quite nicely. As for the romance…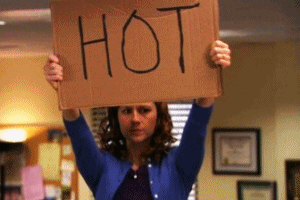 THE CHEMISTRY BETWEEN THESE TWO IS EXPLOSIVE! LIKE, DAMN I WASN'T EXPECTING THE SEXY TIMES TO BE SO WILD! I need replays of these sexy time in the sequel. 😏
Black Hearts is a sexy, dark, thrilling, page-turning mafia romance that will be a hit with fans of the dark reads. I need the sequel like yesterday to see what's in store for Violet and Vincente. Hopefully these two make it out alive because it's looking everyone for themselves in the sequel…