Virgin Territory (Hellions Angels #3)
Publication Date:
March 6, 2018
Add to Goodreads || Buy on Amazon  
Rating: ★★★
Synopsis via Goodreads: Practice Makes Perfect

Patrick "Patch" Donnelly has what it takes to be the best goalie in the NHL…if only he could learn to control his temper. When Coach orders him to get his head in the game with private yoga classes, Patch isn't having it. There's no way this tough Boston guy would be caught dead downward dog-ing his way to inner peace. But if he refuses, he risks his starting position and the dream he sacrificed everything for, including joining the priesthood.

Yoga instructor Margot Kowalski is over men. After yet another toxic relationship, she's eager to forget love and focus on growing her business. Doing the Hellions head coach a favor by helping out a troubled player can't hurt, and it might give her career a high-profile boost. But free-spirited Margot is soon charming the pants off Patch. Literally. Her sassy combination of sweet and sexy proves irresistible to the goalie. Before Patch can give into temptation though, he'll have to confess his biggest secret:

He's a virgin.

But Patch is hiding more than sexual inexperience, and his dark past soon threatens to destroy his shot at true love.
*I received a copy of this book from the author/publisher in exchange for an honest review.* 
Virgin Territory is the final book in the Hellions Angels series and one I was most excited for because virgin heroes are my fave and I've been dying to get the scoop on the goalie who has a reputation for finding trouble. Patrick Donnelly is currently on the hot seat after an altercation at a bar leads him to being sued. Needing a way to cool his hot-tempered attitude, his Coach decides that it would be best for him to take private yoga classes. But things don't go as planned and instead keeping his cool, things heat up as Patrick finds himself falling fast and hard for his instructor, Margot Kowalski.
Virgin Territory was a short and steamy romance that left me wanting more. This is basically an insta-lust romance because Patrick goes from never wanting to be touched by anyone to being ready to hop right into bed with Margot. There's nothing really wrong with that, but I wished that things were slowed down because I didn't feel like I got to know either of these characters well enough before the banging commenced. There's also a lot of telling instead of showing, like we're told Patrick had a rough upbringing and that's the reason why he's so guarded but dammit I wanted some more emotions on the page. The same goes for Margot. She's kind of a free-spirited person who marches to the beat of her own drums, but again we're told that and I wanted to just see more of her personality on the page. The banter between these two was very entertaining and while they are an odd pair, they are a perfect fit for one another. While I didn't end up loving Virgin Territory as much as I had hoped, the Hellions Angels series is still a fun and sexy sports romance series worth checking out!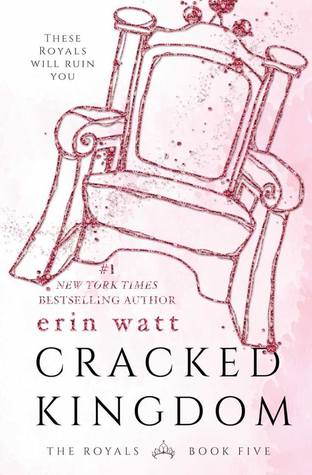 Cracked Kingdom (The Royals #5)
Publication Date:
March 1, 2018
Add to Goodreads || Buy on Amazon  
Rating: ★★½
Synopsis via Goodreads: These Royals will ruin you.

Ever since Hartley Wright met Easton Royal, her life hasn't been the same. There are enemies behind every corner and dangers beyond each door. When tragedy strikes and steals her memories, she can't trust anyone, not even the blue-eyed boy who promises her that everything will be all right.

Because while Hartley's memory is full of gaps, her instincts tell her Easton is dangerous. She doesn't know if he's the snake in the garden or her chance at salvation. The chaos he brings wherever he goes is too much to handle, the intense feelings he evokes are too confusing to unravel.

Easton wants her to remember. Hartley thinks it's better to forget.

She might be right.

Tragedy. Treachery. Trust. Hartley has to face the facts—in this world, you can't escape the Royals.

Either you live by their rules or you die by them.
Fallen Heir left a rather unpleasant taste in mouth, but I was willing to give these authors the benefit-of-the-doubt and hoped that Easton Royal would somehow redeem himself in Cracked Kingdom. Long story short, I shouldn't have held my breath. Cracked Kingdom picks up right where Fallen Heir left off, with the Royals and Wrights dealing with the aftermath of the car accident. Hartley unfortunately loses her memory and she has to figure out who she can trust and who is trying to lead her down the wrong path. 
I'm going to keep this review short and straight to the point because I don't want to go off on a long-winded rant. I felt like Erin Watt tried to tie up too many loose ends in the final installment of The Royals series while still keeping the drama going and it might have backfired on them. It just felt like they were doing too much and I honestly was over this mess. The whole ménage à trois situation that the twins had going on was ended so abruptly I'm lowkey mad because now we're never gonna get the tea on what was really going on between Lauren and the twins. Also, what is up with the adults in this book because even Callum managed to piss me off and I really liked him a lot up until this point. 
Easton did manage to redeem himself and he actually became tolerable. He stopped thinking with his dick and we're reminded that Easton does have a heart. Hartley on the other hand just annoyed me. I didn't like Hartley in Fallen Heir and I don't like her in this sequel. The whole amnesia plot-line was a bit excessive in my opinion. ALSO, CAN WE STOP COMPARING HARTLEY TO ELLA?! LIKE ELLA IS A BOSS AND HARTLEY WILL NEVER BE ON HER LEVEL. Apologies if that sounds rude, but I adore Ella so much and I didn't like the fact that Hartley's story was so similar to Ella's. Like the throw down scene with Felicity? Been there, done that, let's move on now. So The Royals series has finally come to an end and while I did very much enjoy the first three books in this series, I'm gonna pretend like Easton's books never happened. I'm still excited to see what Erin Watt has in store for us next and hopefully this time the dramatics will be left out.