Hurts to Love You (Forbidden Hearts #3)
Publication Date:
March 27, 2018
Add to Goodreads || Buy on Amazon  
Rating: ★★★½
Synopsis via Goodreads: Well-behaved women don't lust after men who love to misbehave.

Heiress Evangeline Chandler knows how to keep a secret . . . like her life-long crush on the tattooed hottie who just happens to be her big brother's friend. She's a Chandler, after all, and Chandlers don't hook up with the help. Then again, they also don't disobey their fathers and quit their respectable jobs, so good-girl rules may no longer apply.

Gabriel Hunter hides the pain of his past behind a smile, but he can't hide his sudden attraction to his friend's sheltered little sister. Eve is far too sweet to accept anything less than forever and there's no chance of a future between the son of a housekeeper and the town's resident princess.

When a wedding party forces Eve and Gabe into tight quarters, keeping their hands off each other will be as hard as keeping their clothes on. The need that draws them together is stronger than the forces that should shove them apart . . . but their sparks may not survive the explosion when long-buried secrets are finally unearthed.
*I received a copy of this book from the author/publisher in exchange for an honest review.* 
Last year I picked up Hate to Want You and fell completely in love with Alisha Rai's hot as hell romance that left me blushing for days. I then went on the read the second installment, Wrong to Need You, and just when I thought it couldn't get any better, Rai had slayed my feels once again. Needless to say, I was eager to dive into Eve and Gabes's story and crossed my fingers that it would be just as good as the previous two books. 
Hurts to Love You is the final installment in the Forbidden Hearts and follows our final pairing, Gabriel Hunter and Evangeline Chandler. Eve always had eyes for Gabe, though her fear of rejecting held her back from letting him know how she felt. But with her brother getting married in a few days and everyone heading up to the lake house to prepare for the ceremony, Eve decides to take a chance and let Gabe know exactly how she feels. Will her feelings be reciprocated or were her fears of rejection right all along? 
It's a bittersweet feeling when reading the final book in one of your favorite series, but I was very curious to know more about the youngest Chandler and the tattoo artist. I connected more with Eve's character. I felt like she grew up a lot in this book and finally stood her ground when it came to making decisions about her own life. She found her voice and used it and I loved seeing her gain that confidence to take chances and make moves. Gabe is a bit more reserved in this book, mainly because he has a huge ass secret and he doesn't want anyone to find out. The thing is, I felt like I didn't really get to know Gabe because of his secret which sucks because he seemed like a much nicer guy in the previous books. The part of the story that didn't work for me was the romance. I didn't feel the connection between Eve and Gabe like I did with our previous two couple. To be honest, it felt one-sided and there was a lot of telling, mainly when it came to Gabe. We're told that he does feel the same for Eve, but I wanted to see that on the page. There were some steamy scenes, but without that emotional connection, I didn't really care for them.
Although the romance fell flat for me, I was still entertained by all these secrets and confessions. The mystery surrounding Robert Kane and Maria Chandler's death is finally revealed and we get the tea on what really went down on that tragic night…and let tell y'all this tea was SCANDALOUS AS FUCK! I swear, seeing all these truths come to light was like watching a damn soap opera. This was basically me during the last 20% of the book.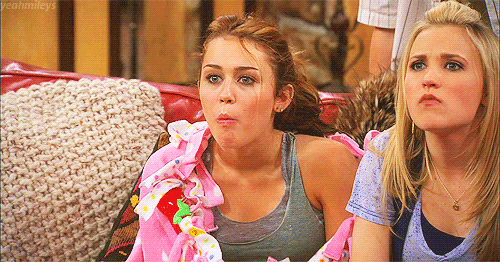 I think that even though I did have somewhat of an idea of what actually went down that night, there were other pieces the puzzle that took me by surprise so it just made the reveal more shocking. The confession in the epilogue was the icing on the cake because everything ended up coming full circle and I wasn't expecting that at all. Alisha Rai knocks it out of the park when it comes to family drama and she did a great job at wrapping up all the loose ends in this finale.
While Hurts to Love You didn't quite live up to my expectations, I still very much enjoyed this series and I'm so going to miss all of these characters. If you love forbidden romances, then I highly recommend this series! Now I'm going to patiently anxiously awaiting for Rai's next book so I can devour it like I did with this series.