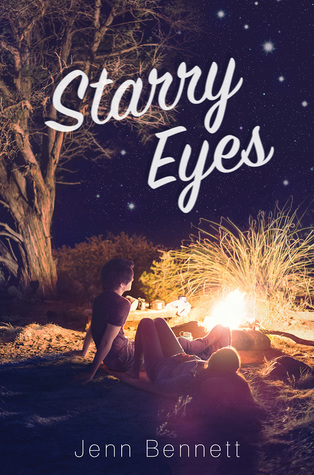 Starry Eyes
Publication Date:
April 3, 2018
Add to Goodreads || Buy on Amazon  
Rating: ★★★★
Synopsis via Goodreads: Ever since last year's homecoming dance, best friends-turned-best enemies Zorie and Lennon have made an art of avoiding each other. It doesn't hurt that their families are the modern day, Californian version of the Montagues and Capulets.

But when a group camping trip goes south, Zorie and Lennon find themselves stranded in the wilderness. Alone. Together.

What could go wrong?

With no one but each other for company, Zorie and Lennon have no choice but to hash out their issues via witty jabs and insults as they try to make their way to safety. But fighting each other while also fighting off the forces of nature makes getting out of the woods in one piece less and less likely.

And as the two travel deeper into Northern California's rugged backcountry, secrets and hidden feelings surface. But can Zorie and Lennon's rekindled connection survive out in the real world? Or was it just a result of the fresh forest air and the magic of the twinkling stars?
*I received a copy of this book from the author/publisher in exchange for an honest review.* 
Over the past year, my interest in young adult books has slowly dwindled and I hardly ever keep up with what's new anymore. But there's something about Jenn Bennett's YA contemporaries that I can't resist and I knew I was going to read this book once I got my hands on it. I didn't even read the blurb beforehand so I didn't have a clue what this story would be about, but I already had heart-eyes—or should I say starry-eyes?—for the cover so it was bound to be a hit.
Starry Eyes is strange mix between a friends-to-lovers and enemies-to-lovers romance and while I've never read story that has combined these two tropes, Bennett has somehow made is work. Zora Everhart and Lennon Mackenzie were once the best of friends until a misunderstanding leads them to having a falling out. They've spent the last few years avoiding each other, but when both get invited to a camping trip, keeping their distant becomes tricky. When conflict arises among the group, Zora and Lennon find themselves stranded in the middle of the woods and if they're going to find their way back home, tackling their issues may be their only hope.
I don't think it's possible for Jenn Bennett to write a bad book. This is the third YA book I've read by Bennett and I absolutely adored it. I love how she incorporates family, friendship, love, change and experiences into all of her stories and manages to make them so relatable. One of my absolute favorite things about this book was Zora's relationship with her step-mother. It's so rare to read a story where a daughter has a healthy relationship with her step-mother and these two were like two peas in a pod. They supported each other and confided in one another and their bond was so strong that even when things fell apart, they stuck by each other's side. We need more stories with mother/daughter relationships like this one! We also have a villain in this book—and yes, I'm going to refer to Zora's father as a villain because his ignorant bitch ass deserves that title. I hated his character so much and he deserved so much worse than what he got. 
Zora reminds me a lot of myself as we are both cautious people. She's a planner, a triple checker and has a fear of the unknown. She doesn't do well with change and throughout this book we see her try to deal with her anxiety. Bennett did a great job at handing Zora's anxiety and with Zora coming to terms with the fact that not everything in life can be planned for. Sometimes we just have to hope for the best and prepare for the worst. And then we have Lennon! My sixteen-year-old emo self is lowkey swooning over him because he's such a good guy. He also has a great amount of patience and he keeps Zora grounded when she finds herself all caught up in her head. As for the romance, prepare yourself for a lot of angst. Zora and Lennon have a good amount of issues they need to work through and they also need to build back their trust for one another. But the wait is so worth it in the end! 
Starry Eyes was another amazing release by Jenn Bennett and I highly recommend picking it up. This book is just everything I wanted a feel-good contemporary and I can't wait to see what story Bennett pens next!