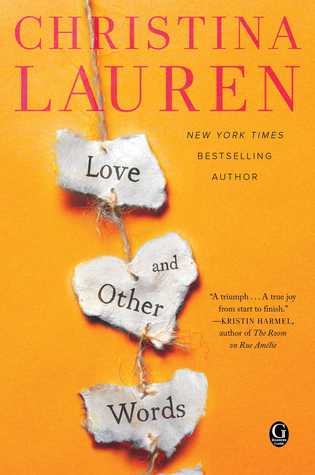 Publication Date:
April 10, 2018
Add to Goodreads||Buy on Amazon  
Rating: ★★★★½
Synopsis via Goodreads: Love, loss, friendship, and the betrayals of the past all collide in this first fiction novel from New York Times and #1 international bestselling author Christina Lauren (Autoboyography, Dating You / Hating You).

The story of the heart can never be unwritten.

Macy Sorensen is settling into an ambitious if emotionally tepid routine: work hard as a new pediatrics resident, plan her wedding to an older, financially secure man, keep her head down and heart tucked away.

But when she runs into Elliot Petropoulos—the first and only love of her life—the careful bubble she's constructed begins to dissolve. Once upon a time, Elliot was Macy's entire world—growing from her gangly bookish friend into the man who coaxed her heart open again after the loss of her mother…only to break it on the very night he declared his love for her.

Told in alternating timelines between Then and Now, teenage Elliot and Macy grow from friends to much more—spending weekends and lazy summers together in a house outside of San Francisco devouring books, sharing favorite words, and talking through their growing pains and triumphs. As adults, they have become strangers to one another until their chance reunion. Although their memories are obscured by the agony of what happened that night so many years ago, Elliot will come to understand the truth behind Macy's decade-long silence, and will have to overcome the past and himself to revive her faith in the possibility of an all-consuming love.
I'm like 600 years late to the party but…
I FINALLY READ MY FIRST CHRISTINA LAUREN BOOK!
So I'm not gonna sit here and make up excuses for why I am now reading this amazing author duo because in all honesty, I was just being lazy. I've had the Beautiful Bastard series sitting in my iBooks library since before I started blogging. I won a copy of Roomies a few months back and still have yet to actually open the eBook. To say I was sleeping on this author duo doesn't even cut it y'all. Anyways, I finally decided to get my life together and picked up Christina Lauren's latest release, which also happens to be the 20th book they've written so far. I guess the 20th time's the charm?
Love and Other Words is a second-chance romance between childhood best friends, Macy Sorensen and Elliot Petropoulos. Macy and Elliot's love story is told in alternating timelines where we first meet the two in the present and then we are taken back to eleven years ago to when Macy and Elliot first met. Switching between the present and the past, the suspense builds as we wonder what could possibly have gone wrong to break up years of friendship and if a second shot at love is even in the cards for Macy and Elliot.    
This book. THIS GODDAMN BOOK. I devoured it in less than 24 hours. My poor heart from all these emotions. My poor eyes from all the tears. My poor eReader who was thrown across the room several times. I was a mess. Love and Other Words has officially made me a Christina Lauren fan and all it took was one book! The writing was absolutely phenomenal. It was like each and every word was perfectly placed in the right place, right down to the final sentence. What surprised me most was the fact that I couldn't distinguish between who was writing what parts because everything just flowed so seamlessly. There's also some suspense in this book because you're trying to figure out what the conflict could possibly be and Christina Lauren did such a great job at building that momentum up. I didn't see the twist coming at all and it totally gutted me.
I feel like Macy's is a character that you're either gonna love her or want to slap her upside her head. I was personally frustrated by her because she's so damn guarded but she has some valid reasons for her hesitancy. But despite my frustration, I grew to love her and understand her. She's faced a lot of loss at such a young age, but she still manages to keep her head held high. I admire her resilience and I just wanted her to be happy in the end. 
So let me take a minute to gush about my new husband, Elliot Petropoulos. If you know me, then you know nerdy heroes are my kink but OMG, THIS GUY IS JUST EVERYTHING. He reads. Like actual novels. And all the time. If it has words, then Elliot will read it. Non-fiction. Sci-Fi. Young Adult. FREAKING ROMANCE BOOKS.  I legit lost my shit when homeboy talked about reading erotica. It's like he was written for me. Elliot has all the patience in the world because he waited eleven years for the love of his life to return to him and he wasn't going to give up without a fight. A lover of words and he fights for his girl's heart, like where can I sign up to get me my own real life Elliot? 
This is a slow-burning romance to end all slow-burning romances. I was biting my nails and trying to make my eyes read faster so I could get to the part where all the magic happens and while the wait was brutal, it was so worth it. Love and Other Words is the true definition of a love story and I couldn't have asked for anything more. 
Love and Other Words was a book that gripped me from the first page, had me clutching my heart all through the middle and then had me in tears by the end. Don't be like me and waste years sleeping on this author duo. GO READ THIS BOOK NOW and I promise it will be the best decision you ever make.