JOCK ROW by SARA NEY
★★★½
 "I'm an athlete—a champion. I play hard and jock harder, and these little games I've started with her? I'm playing to win."
I've been hyped about the release for Jock Row ever since I read the Switch Hitter novella a few months back. I've also been meaning to read Sara Ney's books for some time now and picking up the first book in her latest series seemed like the perfect place to start!
Jock Row is an adorably angsty college romance about two people falling for each other under the most random circumstances. Scarlett Ripley attends a party with her friends on Jock Row and is unfortunately labeled as a "cock blocker" after mouthing off to a few of the baseball players and is asked to leave. Sterling "Rowdy" Wade, captain of the baseball team, pulled the short straw and is responsible for escorting Scarlett out of the house. However, Scarlett has no intentions of leaving just yet and she and Rowdy end up going back and forth all night. Despite being banned from the house, Scarlett continues to return to Jock Row with intentions of making it past the front door but she might end up finding something she never expected instead.
First things first, while this series revolves around different players on a college baseball team, I wouldn't classify it as a sports romance because there is no actual baseball playing. Can't call it sports romance if there ain't no game playing action going down, that's all I'm saying. Anywho, Jock Row started off slow as the first half of the book is spent on Rowdy and Scarlett getting to know each other while playing games like "Never Have I Ever" and "Truth or Dare". I was so entertained by their banter and seeing Rowdy trying to resist Scarlett's charm. The romance slowly builds through these numerous drinking game sessions so you're definitely going to be doing some waiting when it comes to these two getting together. I liked both Scarlett and Rowdy although I will say that Rowdy took a little more time to warm up to because I initially pegged him for a douchebag. I do love how affectionate Rowdy was and the fact that he stood up for Scarlett. It was so sweet. The only thing that kept me from loving this book more was that I felt it was a tad too short. Once we got to the second half and the romance finally took off, it was only a few chapters more and then the story was over. Things wrapped up too quickly for more liking and I just needed a few more chapters to satisfy me. I'm still excited to continue the Jock Hard series and I can't wait to see which one of our players ends up falling in love next!
THE HARDEST FALL by ELLA MAISE
★★★★
"I think we're gonna end up kissing one of these days, and I bet you'll be the first one to beg for it."
I've been dying to read this book ever since the cover was revealed! The cover is all types of adorableness and the story sounded so sweet and I couldn't wait to gobble it right up. Everyone's also been raving about this one all over my Instagram feed so I had high hopes that this book wouldn't disappoint.
The Hardest Fall follows our two main characters, Zoe Clarke and Dylan Reed. Over the years, Zoe and Dylan have been awkwardly running into each other and while both of them are attracted to one another, the timing was never right. Now, Dylan is Zoe's new roommate and things seem to finally be falling into place—the only question is who will be the one to fall first?
I went into this book expecting it to be super cute, and it was—until I hit the 25% mark and then thing turned pretty scandalous. I won't give the plot twist away, but our heroine Zoe has a secret and it plays a big role in the book. This little secret also had me very stressed out because I was dying to know what it was. Ella Maise definitely managed to keep me on my toes, I'll tell you that. I adored the romance! It's a slow burning romance because there are numerous obstacles that these two have to deal with before they can be together, but the end result is so worth it. Zoe is a girl you are either gonna love or hate and I really enjoyed her quirky personality. She's painfully shy and she's constantly going off on tangents so expect a lot of rambling from her. Dylan is a total sweetheart and I kind of wish we got a few more chapters with his POV. I wanted to be inside his head for a bit longer. The Hardest Fall did not disappoint and I'm excited to read whatever Ella Maise releases next!   
I DARE YOU by ILSA MADDEN-MILLS
★★½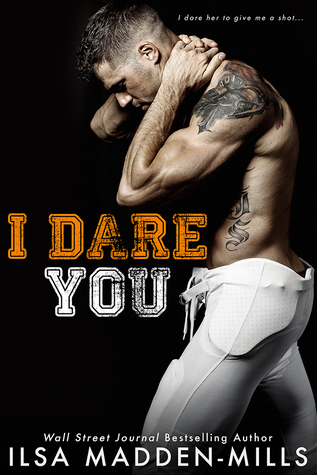 "I gave you your first kiss at the bonfire. Legend says you'll never forget me."
Since I was on a sports romance roll, I decided to also pick up I Dare You by Ilsa Madden-Mills. This is my first read by this author so I didn't know what to expect going in. I just hoped that it would be a good read, lol.
Legend has it that the first person you kiss at a Waylon bonfire party is the one you'll never forget and that's exactly what happened when Maverick Monroe kissed Delaney Shaw during their freshman. Two years later, a broken-hearted Delaney is trying to move forward and despite her "no more dating football players" rule, she can't deny her attraction to Maverick. But the sexy athlete is keeping something from her and having been burned before, Delaney isn't so willing to let him in just yet. Will the bonfire legend prove to be true or will secrets keep these two apart?  
Since this was my first time reading a book by Ilsa Madden-Mills, I didn't really have any expectations going into this book. What I did expect was FOR THIS BOOK TO NOT END AT 56%!! This is a pet peeve of mine, but if you are not going to give me a whole ass book, then there should be a note or a heads up of the sort that says that the story finishes at a certain percentage. The other 40% of the book was basically just an excerpt of another book—and by excerpt I mean 20 chapters. Besides the book not being a full book, I wasn't a fan of the heroine. All the offense, but I felt like Delaney was a bit selfish at times. She's perfectly aware that Maverick is dealing with a lot and although she might not have had all the details, she shouldn't have made Maverick feel like he had to choose between her and his crappy situation. Like I get that her insecurities may have gotten the best of her, but her behavior was uncalled for. The romance was also weak. I just didn't feel the connection and I felt like Maverick wanted the relationship more than Delaney did. I did feel bad for Maverick and his situation. I also loved his relationship with his sister and how caring he was to her. He really tried to do what he felt was best to help his sister. Maybe if this story got a new heroine and the romance had a bit more spice to it, I would've enjoyed it more. I probably won't be continuing this series and it's probably for the best.