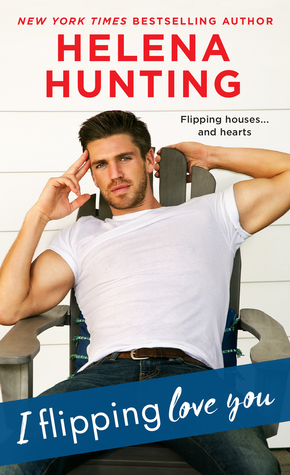 I Flipping Love You (Shacking Up #3)
Publication Date:
May 29, 2018
Rating: ★★★½
Synopsis via Goodreads: A new kind of love story about flipping houses, taking risks, and landing that special someone who's move-in ready…

SHE'S GOT CURB APPEAL

Rian Sutter grew up with the finer things in life. Spending summers in The Hamptons was a normal occurrence for her until her parents lost everything years ago. Now Rian and her sister are getting their life, and finances, back on track through real estate. Not only do they buy and sell houses to the rich and famous, but they finally have the capital to flip their very own beachfront property. But when she inadvertently catches the attention of a sexy stranger who snaps up every house from under her, all bets are off…

HE'S A FIXER UPPER

Pierce Whitfield doesn't normally demo kitchens, install dry wall, or tear apart a beautiful woman's dreams. He's just a down-on-his-luck lawyer who needed a break from the city and agreed to help his brother work on a few homes in the Hamptons. When he first meets Rian, the attraction is undeniable. But when they start competing for the same pieces of prime real estate, the early sparks turn into full-blown fireworks. Can these passionate rivals turn up the heat on their budding romance — without burning down the house?

I FLIPPING LOVE YOU, set in the Shacking Up world, follows two people, both working in real estate, who find themselves vying for the same properties in the Hamptons, leading to a sometimes-not-so-friendly competition.
*I received a copy of this book from the author/publisher in exchange for an honest review.* 
After DNF-ing Shacking Up, I had no intentions of continuing the series. But then I read the synopsis for I Flipping Love You and was suckered back in because I love romances that revolve around real estate so I had to pick this book up. I Flipping Love You is hate-to-love romance that follows our two main characters, Rian Sutter and Pierce Whitfield. The two meet when Pierce mistakes Rian for her twin sister, who had hit his car a week ago and left before he could get her information. Rian wants to pay for the damages and be on her way, but Pierce isn't ready to let Rian go just yet because he knows there's chemistry between them and he's curious to see where things can go.
I Flipping Love You started off on a good note and I was immediately invested in Rian and Pierce's story. I loved how these two would randomly run in to each other and just start bickering like an old married couple. Pierce would always find a way to push Rian's button so she could hit him with some smart ass remark and I was so entertained. All the back and forth worked for a great build-up when it came to the romance. I couldn't wait to see what would happen when these two finally got together. I really liked both of our main characters which is surprising because that rarely happens when I read Hunting's books. Rian is a total math nerd and I love it! She's a girl who always has a plan and Pierce comes along and ends up shaking things up and she has to learn how to let her guard down. Like Rian, I too had Pierce pegged as an asshole but he's actually a sweetheart. He has his own shit to figure out as he wants to change careers but he also doesn't want to let his father down so while trying to win Rian over, Pierce has to find the courage to either make that change or stay at a job where he is not happy.
While I enjoyed the first half of this book, the second half was a bit of a let down. Rian and Pierce just spent most of their time hooking up and while I'm all for steamy moments, I wish that there had been more of a conflict. I wanted some real estate drama, ya know? There was a minor bump in the road towards the end, but the situation was easily resolved and I was just left wanting more. Despite my slight disappointment, I Flipping Love You was still an enjoyable read and definitely worth checking out.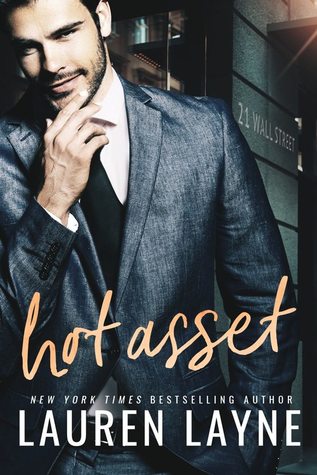 Hot Asset (21 Wall Street #1)
Publication Date:
May 22, 2018
Publisher:
Montlake Romance
Add to Goodreads || Buy on Amazon  
Rating: ★★★½
Synopsis via Goodreads: A sexy agent hounds Wall Street's hottest new wolf in an exhilarating novel from New York Times bestselling author Lauren Layne.

Ian Bradley is the definition of a Wall Street hotshot: seven-figure salary, designer suits, and a corner office. His drive off the floor is just as potent. Every woman who knows him has felt the rush. But now he's met his match in Lara McKenzie—a woman with the power to bring Ian to his knees.

An ambitious, whip-smart daughter of FBI agents, Lara is a rising star in fighting white-collar crime. Her latest case—the investigation of Ian Bradley for insider trading—could make her career. She knows a scoundrel when she sees one. Ian fits the bill: a cocky, ridiculously handsome bad boy with a slick swagger.

She'll do anything to prove he's guilty. He'll do anything to prove he's not. But it's only a matter of time before their fierce battle of wits gets oh so hot and personal. Now, taking down Ian has become more than business for Lara. It's become a pleasure—and there's more at risk than she ever dreamed.
*I received a copy of this book from the author/publisher in exchange for an honest review.* 
I finally read my first Lauren Layne book! I know, I know, it took me long enough but truth be told, I never thought Layne's books were for me. I didn't find her covers appealing and the plots for her books didn't sound like my cup of tea. But I still wanted to give Layne's book a chance because I know some of my favorite blogger friends adore her books and who knows, maybe I'd end up loving them too.
Hot Asset is the first book in Layne's 21 Wall Street series and follows our main characters Ian Bradley and Lara McKenzie. Ian is a hot shot investment broker who is under investigation for insider trading and Lara is the SEC agent assigned to his case. While trying to prove his innocence, sparks fly between Ian and Lara and though neither can deny their attraction to one another, crossing that line could put both of their careers at risk.  
I went into this book having no idea what it was about other than the fact that it was set in NYC and I love reading books set in my city. It didn't take me long to get hooked on the plot because I was dying to know whether or not Ian was really innocent. The romance also held my attention because I'm a sucker for the enemies-to-lovers trope and the banter between these two was off-the-charts hilarious! However, I didn't really connect with either Ian and Lara. They were okay characters, but I felt like we only cracked the surface level of their characterization. Maybe if there had been a little more emotion on the page, I would've been more invested. I am however completely invested in the side characters! I'm a dying to get my hands on the next two books in this series because I already approve of our next two couples and I need to see how things play out for them. Hot Asset is a great start to a new series and I can't wait to see what happens next in the upcoming releases.