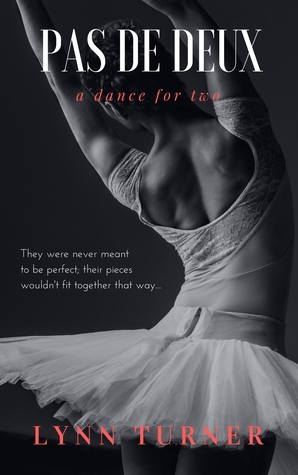 Pas De Deux: A Dance For Two
Publication Date:
May 11, 2018
Publisher:
Self-published
Add to Goodreads || Buy on Amazon  
Rating: ★★★½
Synopsis via Goodreads: It's said the artist is born of a damaged soul…

Wilhelmina Allende is a prima ballerina. When tragedy turns her beloved Paris into a gilded cage, she jumps at the chance to work with one of the most prolific choreographers she's ever seen. But Zack's style is way out of her comfort zone. So is his teaching method. And his humor. And his everything. He's a charming little connard. It's hard not to like him. Merde. What has she gotten herself into?

Zachary Coen's first musical is opening on Broadway. Much like his life, it's anything but conventional, so hiring Mina is simply out of the question. She's too…classical. Too perfect. She's all wrong for the role. Then he meets her in person and sees her cracks. Her broken pieces. How unique and beautiful each one is. And he can't help but notice how her edges seem to fit his…perfectly.

Just when teaming up seems to be working, the monsters they've kept hidden threaten to rip it all apart.
*I received a copy of this book from the author/publisher in exchange for an honest review.* 
Fun fact, when I was a little girl I wanted to be a ballerina. But my mom could never afford to put me in lessons, so I found the next best thing: I read all the ballerina books I could get my tiny little hands on. I lived vicariously through the characters and their love of performing so when I saw the cover reveal of Lynn Turner's upcoming release, I knew that I had to have it!
Pas De Deux is a hate to love romance about two broken souls finding love. Wilhelmina Allende is a well-known prima ballerina who has taken the ballet world by storm, but when tragedy strikes, she finds herself needing a change of scenery. She's offered a role in Zachary Coen's upcoming musical and jumps at the chance to leave Paris behind. Zachary on the other hand is not yet convinced that Mina is right for the role. She's too polished, too poised. She lacks the raw emotion he's looking for in her performance and the pair become frustrated with one another. But frustration turns into passion and it's not too long until these two broken souls start falling for each other.  
The writing in Pas De Deux is absolutely stunning and I was immediately pulled in this story. I swear, Lynn Turner's words are literally art on the page and I love how descriptive and sensual each scene between Mina and Zack was. I felt like I had front seats to their performances. However, while I loved how detailed this story was, the downside is that it does make this book a very dense read. I'm usually a fast reader but I ended up having to slow down so I wouldn't miss any details. There is also a great amount of French dialogue in this book as Mina grew up in Paris and while I wasn't bothered by it, it was another reason why I had to slow down my reading pace.  
I loved both Mina and Zack. Mina is struggling to move on from the loss of her best friend and it does cause her to become a bit disconnected when it comes to her love of ballet. She questions her abilities and if she truly is a good enough ballerina. I enjoyed seeing Mina work through her insecurities and realize that she is worth it and eventually gains the courage to chase after her dreams. Zack was an unexpected surprise. I really thought he would be an asshole but he's so freakin' sweet and caring! I loved his backstory and his relationship with his adopted family, especially with his mother. I also loved the fact that Zack gave back to the children in his community and encouraged them to pursue the arts. He's the total package and I have all the heart-eyes for him. The romance itself was FIRE! I love the passion between Zack and Mina, both on and off the stage and I couldn't get enough of these two! 
While there were a lot of things that liked about this book, there was one thing that didn't quite work for me. I wasn't a fan of the plot twist in this book. It felt out of place and came out of nowhere. The plot twist also didn't do anything to better the overall story. It was like the twist happened and then in the next chapter we moved on and it was never brought up again. If there had been a better build up to the twist or if we had gotten more background info about a particular character, then maybe the twist would've made more sense.
While the ending of Pas De Deux was a bit of a let down, I still enjoyed the romance between Mina and Zack. I definitely recommend this romance if you love the art of ballet as much as I do and I can't wait to see what Turner pens next!