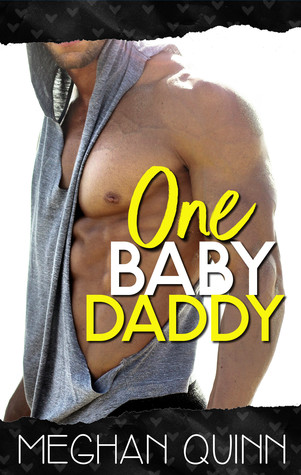 One Baby Daddy (Dating by Numbers #3)
Publication Date:
May 17, 2018
Publisher:
Self-published
Add to Goodreads || Buy on Amazon  
Rating: ★★★★
Synopsis via Goodreads: "What are you doing now that your team is out of the running for the Stanley Cup?"

Forget.

I need to forget. I need an escape.

Only one person isn't falling for my reputation as the NHL's Golden Boy; she captured my attention the minute she called me out for snooping through my best friend's house. She didn't want to hear my reason–she only wanted to playfully give me a hard time.

Adalyn is bold, sassy–and the perfect escape.

She's everywhere. In town and in my dreams, and suddenly I need to spend every waking moment with her.

And I do, making this summer the best off-season I've ever had.

But in the midst of getting lost in Adalyn, what I don't expect is to get her pregnant. 

And what I definitely don't expect is having to fight for her affection.
*I received a copy of this book from the author/publisher in exchange for an honest review.*
I have been dying, and I mean DYING, to read Hayden Holme's story ever since we first met him in Back in the Game. When he didn't end up getting the girl in Three Blind Dates, I was low key bummed about it but I knew Meghan Quinn would pull through and give Hayden the happily-ever-after he deserved…or at least I hoped she would. *crosses fingers*  
After losing his cool on the ice and costing his team a shot at the championship, Hayden Holmes decides to head up to Binghamton to get away from the media and to clear his head. There he meets Adalyn, a sassy nurse who isn't used to commitment, but there's something about the charming hockey player that has Adalyn wanting more. Hayden and Adalyn end up falling fast and hard for each other, but when Hayden gets traded to another team, Adalyn decides that it would be best to break things off before anyone gets hurt. But a clean break isn't going to work in her favor this time around—not with an unexpected surprise on the way.
When I found out that Adalyn was going to be Hayden's love interest, I was hyped because that meant we were going to be seeing some of my favorite characters from the Binghamton series again! At the same time, I wasn't quite sure what to expect because Hayden and Adalyn have very opposite personalities so I was curious to see how things would end up playing out for them. The overall plot was entertaining and while surprise pregnancies can be a hit or miss trope, it worked for me in this book. Y'all are definitely going to need some patience going into this one because holy shit this was such an angsty, slow-burning romance. There were numerous obstacles these two had to work through, but the wait is so worth it in the end.
HAYDEN HOLMES IS MY NEW BOOK HUSBAND! I just want all y'all out there to know that Hayden has been claimed for so hands off! But in all seriousness, Hayden is definitely my favorite hero in this series. He's just genuinely a good guy with a lot of patience and I loved the fact that he never pushed Adalyn to be with him. He just gave her straight facts and he let her decide whether or not she was willing to take a chance on him. Adalyn was a bit of a surprise because when we first met her in My Best Friend's Ex, she came off as this confident, go-luck girl who just wanted to have a good time. But in One Baby Daddy, we got to peel back her layers and see that she does have some insecurities and that just made her more relatable. I honestly couldn't get enough of these two together and I didn't want their story to end.
One Baby Daddy was the perfect ending to the Dating by Numbers series and Meghan Quinn definitely knew what she was doing when she saved the best story for last! If you haven't picked up this series yet, then you definitely need to change that ASAP because this series is so freakin' good and no one writes rom-coms better than Meghan Quinn! I know a spin-off series is in the works for a few of the secondary characters throughout this series and I can't wait to see Meghan has in stores for us next!
"Would you mind zipping up the back of my dress?" She walks toward me, her flowery scent floating in my direction, spiking my yearning into overdrive. 
"Uh, yeah . . . sure."
She turns around, and looks over her shoulder. The back of her dress is completely open, the zipper undone to just above the curve of her beautifully round ass.
Shit, all that smooth, tan skin, covered by nothing but the velvety fabric of the dress. Is she wearingunderwear? She's not wearing a bra and I see no panty line.
Clearing my throat, I ask, "Are you wearing underwear, Adalyn?"
From over her shoulder, she smiles shyly. "Yes, it's small though."
Of course it is. Why wouldn't it be?
Not being able to stop myself, I take a second to float my fingertips up her spine. From the initial touch, her back arches and a small gasp releases from her lips, but before I can think about stopping, she melts into my touch. Stepping closer, I place my hand on the back of her hip, my thumb pressing into her ass while the other hand explores the bare expanse of her back. Her head falls to my shoulder. Her lips part, and when I snake to the front of her dress, her breath hitches.
Eyes closed, I take in ragged breaths, my fingers inching closer and closer to her front, my cock painfully hard.
It's been so goddamn long—and being with Adalyn has only spurred on my need—but I want to make sure we're in a good place before we commit to anything. I want to make sure she's ready emotionally because the minute I bury myself deep inside her, I know there will be no turning back. She will be mine forever.
But maybe for now, I can just have a little touch . . .
My cock pressed against her butt, she expertly grinds her backside into me, her hands moving to my neck, pulling my head down to hers. I kiss the side of her neck, using the hand that's gripping her hips to guide her with her grinding in just the right place.
Fuck, that feels good.
I grunt, the sound vibrating over her sleek neck. My hand on her stomach, she arches wanting more of my touch, silently asking me to move north.
And I fucking comply. Inch by slow inch, I guide my hand to just below her breasts. When I halt my pursuit, a displeased groan escapes her.
"Hayden, please."
I squeeze my eyes shut, trying to find the willpower. Her fingernails dig into my scalp, spurring me on as she turns her head and finds my lips.
She kisses me.
Hot.
Wet.
Needy.
Her lips gliding across mine, her tongue diving into my mouth, her moans are vocal and sexy. Her delicious ass, pressing, grinding, undulating against my rock-hard cock makes me want to do so much more, makes me want to taste so much more.
Moving my hand higher, my fingertips graze the bottom of her breast. Soft. Round. Smooth. I caress her right below her nipple, never touching, just teasing . . . tempting.
Born in New York and raised in Southern California, Meghan has grown into a sassy, peanut butter eating, blonde haired swearing, animal hoarding lady. She is known to bust out and dance if "It's Raining Men" starts beating through the air and heaven forbid you get a margarita in her, protect your legs because they may be humped. Once she started commuting for an hour and twenty minutes every day to work for three years, she began to have conversations play in her head, real life, deep male voices and dainty lady coos kind of conversations. Perturbed and confused, she decided to either see a therapist about the hot and steamy voices running through her head or start writing them down. She decided to go with the cheaper option and started writing… enter her first novel, Caught Looking.
Now you can find the spicy, most definitely on the border of lunacy, kind of crazy lady residing in Colorado with the love of her life and her five, furry four legged children, hiking a trail or hiding behind shelves at grocery stores, wondering what kind of lube the nervous stranger will bring home to his wife. Oh and she loves a good boob squeeze!
Facebook || Goodreads || Website || Amazon Author Page || Instagram || BookBub