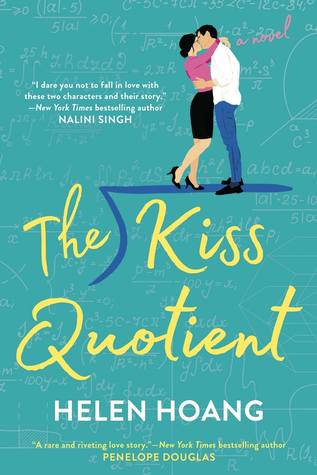 The Kiss Quotient (The Kiss Quotient #1)
Publication Date:
June 5, 2018
Add to Goodreads || Buy on Amazon  
Rating: ★★★★★
Synopsis via Goodreads: A heartwarming and refreshing debut novel that proves one thing: there's not enough data in the world to predict what will make your heart tick.

Stella Lane thinks math is the only thing that unites the universe. She comes up with algorithms to predict customer purchases–a job that has given her more money than she knows what to do with, and way less experience in the dating department than the average thirty-year-old.

It doesn't help that Stella has Asperger's and French kissing reminds her of a shark getting its teeth cleaned by pilot fish. Her conclusion: she needs lots of practice–with a professional. Which is why she hires escort Michael Phan. The Vietnamese and Swedish stunner can't afford to turn down Stella's offer, and agrees to help her check off all the boxes on her lesson plan–from foreplay to more-than-missionary position…

Before long, Stella not only learns to appreciate his kisses, but to crave all the other things he's making her feel. Soon, their no-nonsense partnership starts making a strange kind of sense. And the pattern that emerges will convince Stella that love is the best kind of logic…
*I received a copy of this book from the author/publisher in exchange for an honest review.*
Helen Hoang is stealing hearts and taking names with her sexy and sweet debut romance, The Kiss Quotient. The Kiss Quotient follows our two main characters, Stella Lane and Michael Phan. Stella is an econometrician who spends her days working with algorithms and studying statistics, but when it comes to relationships, she can't seem to figure out the right formula for falling in love. So she decides to hire an escort, hoping that he will be able to teach her the art of seduction. But what happens when the teacher starts falling for the student?    
I have been dying to get my hands on this debut novel ever since I saw the cover reveal. I mean, how can you resist a cover as cute as that?! And it's get even better because the story itself turned out to be as cute as its cover. I gotta say, I'm really impressed by the writing in this debut novel. From the slow build of the romance and the sweet and sexy scenes to the familial themes and the realistic representation of a character with ASD, Hoang hits the mark each time! I loved the Phan family so much, especially Michael's mother because she was never afraid to speak her mind. I was also living for this romance—and by living I mean LIVING! Hoang did a great job at building the chemistry between these two and I instantly fell in love while watching Stella and Michael fumble over their feelings for one another. I'm telling y'all, if my life was turned into a romance novel, I would want it to be written exactly like this one. 
I absolutely adored Stella! As someone who has studied ASD and has worked with children who are on various levels of the spectrum, I really appreciated seeing a character with ASD in a romance book. I liked the fact that Stella wasn't portrayed as having "textbook characteristics" of ASD, but rather her traits were uniquely her own and this made the rep more realistic. I especially loved the fact that Stella didn't have to change who she was to find the love that she deserved. She was perfect the way she was, she just needed to find that special someone who fit perfectly with her parts…and she did.
And then we have my future husband, Michael Phan (Nick if you're reading this, I'm totally stealing "your man"). Michael is such a caring, selfless, all-around good guy who works hard to take care of his family. He put his dreams aside to return home to take care of his mother and to help run the family business. Those same caring and nurturing traits are what make him a good match for Stella because he takes his time with her and makes her feel safe. Even though I did want to yell at him for denying his feelings for Stella, he does eventually come to his senses and makes up for the error in his way by the end.
It may be too soon to call, but I'm doing it anyways and naming The Kiss Quotient as my ALL-TIME FAVORITE release for 2018! I know I will definitely be re-reading this book a few more times before the year is over and hopefully my re-reads can hold me over until I can get my little paws on the sequel. January truly can't come soon enough!