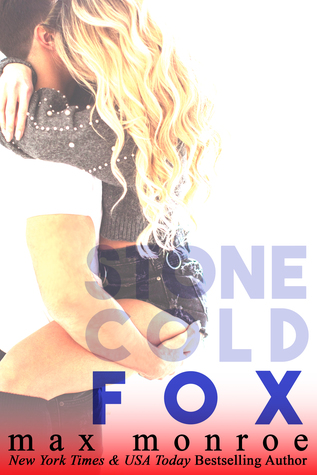 Fox (Stone Cold Fox Trilogy #3)
Publication Date:
May 20, 2018
Publisher:
Max Monroe LLC
Rating: ★★★★
Synopsis via Goodreads: Some things are meant to be; some aren't. 

I never thought this would be my life.

I never believed I could feel this way. 

I don't know where to go from here.

I never want to be anywhere else. 

My whole world has changed. 

She is my whole world. 

I'm not sure how to be me again. 

I've never felt more like myself.

I've never needed anyone, but I need him. 

I love her. I'll always love her. 

But is our love enough? Can Levi and I really survive this? 

Together, Ivy and I can survive anything.
Cold ended with one hell of a cliffhanger and I was dying to pick up Fox as soon as possible. I did have to wait a bit since I had other books to read before I could start Fox, but once I started reading, I couldn't stop until I knew for sure that Ivy and Levi were going to get the happily-ever-after that they deserved.
Fox picks up right where Cold left off. With the filming of the movie complete, Ivy moves back to her home in California so she can mourn the loss of her twin sister and Levi comes with, helping her to deal with the paparazzi and her grief. Ivy struggles with wanting to move forward, but at the same time she's rattled with guilt. Can Levi and Ivy's relationship survive this tragic loss or will their relationship fall apart? 
The grand finale has finally arrived and I gotta say, I wasn't expecting things to go down the way that they did. Unlike the first two books in this series, which were filled with drama and plot twists galore, Max Monroe kind of toned it down in Fox and things took a much sweeter turn. Yes there were still some heavier moments as we watched Ivy break down and deal with her grief, but it wasn't too long until things started looking up for Ivy and Levi and all the shit they faced in the previous two books was now in the past. I might even go on a say that the second half of this book was rather predictable, but I loved it nonetheless. We finally got to see Ivy and Levi settle down and love each other and support one another. I loved seeing their romance grow and seeing them both moving forward after losing the most important people in their lives. This was such a good suspenseful romance series and now that all three books have been release, I definitely recommend y'all go binge-read them if you haven't done so already. With that being said, now I need to get to binge-reading Max Monroe's other series'. I've heard they are quite the riot and after the Stone Cold Fox Trilogy, I could use a good laugh.
Even Money (All In Duet #1)
Publication Date:
June 4, 2018
Publisher:
Self-published
Add to Goodreads || Buy on Amazon  
Rating: ★★★
Synopsis via Goodreads: Sometimes it only takes a minute. A connection of eyes across a room, a quickened heartbeat, and everything changes.

I was a cocktail waitress with a fondness for partying and meaningless sex.

He owned half of Vegas, with the reputation to match.

I should have turned away. Instead, I stepped closer.

Then, the lies started.

Rumors spread.

Stalking commenced.

And someone died.

None of it stopped me from falling in love.

*This is book 1 in a duet. The second book, Double Down, will release on June 18th or 25th.*
I am a HUGE fan of Alessandra Torre's books but her last release, Hidden Seams, was a miss for me and I was hoping that her newest release, Even Money, would be a much better read. Unfortunately, I can't say that it was. I think this was definitely a case of "it's me, not you" because I know a lot of my other blogger friends loved this book and while there were some things that I liked too, there were also a lot of other things I just couldn't get on board with. 
College student and cocktail waitress, Bell Hartley, knows getting involved with a man like Dario Capece will only lead to trouble. Despite her better judgment, Bell finds herself sucked into Dario's world and for the first time in her life, she feels something for a man that she has never felt before: love. But things become complicated and outside factors will try to tear these two apart. Can Dario and Bell's relationship survive whatever Sin City has in store for them or will it all go up in flames?
Let's start off with talking about what I liked. I was super hyped to dive into Torre's latest release because I'm a sucker for any book set in the City of Sin and coupled with Torre's writing style, I knew I was in for a treat! I love how Torre slowly built the suspense throughout this book and just when I thought I had this story figured out, she would throw me for a loop and I would be back at square one. It was so bloody nerve-racking! For the most part, I liked Bell's character. She's a classic Torre heroine: headstrong, feisty, smart as hell but still has some vulnerable parts to her. Bell's POV was probably the only POV I enjoyed reading. Now onto what I didn't like. For the life of me, I could not stand Dario one bit. He was just so damn manipulative and needy, like dude calm the fuck down for a minute. I swear he was more child than man with the way he kept acting when he couldn't be near Bell. I also wasn't too sold on the romance. This was pure insta-lust and I felt like things developed way too quickly between the pair. The only reason why I'm even continuing this duet is because I need to know what's going to happen next and I'm crossing my fingers that Torre redeems herself with this sequel or I'm going to be three for three with disappointing reads and that does not make me a happy bookworm at all!