THE BLUE LINE DUET by MEGHAN QUINN
The Downside of Love: Goodreads || Amazon
I'm going to preface this review by saying that what you're about to witness will be a HOT MESS! I'm not even sure I would consider what I'm about to write to be a review, but I need to get my thoughts about the Blue Line duet out so I can find some peace and move on to my next read. Also, there will be some minor spoilers because I can't discuss these two books without somewhat spoiling the first book, BUT I WILL NOT SAY HOW THE DUET ENDS SO READ AT YO OWN RISK!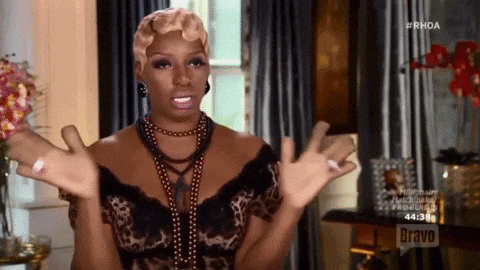 So y'all already know that Meghan Quinn is one of my favorite authors and when she started posting about her new duet I got really excited because it was different from Meghan's typical cutesy rom-com romances and I was curious to see if she could pull off a more emotional romance. Let me tell y'all, THE WOMAN CAN PULL OFF EMOTIONAL ROMANCE. LAAWWDD, my soul was not prepared for this mess. My eReader barely made it through intact because I deadass wanted to throw it out the window. That's how frustrated I felt while reading these two books. Meghan Quinn was not playing games with this duet and while I have a few colorful words for her, I am low key applauding her for writing a story like this one.
The Blue Line duet tells the messy truth about love, all it's ups and downs and all the surprises that we never see coming. First, let's talk about the easy things and then we'll get to the hard stuff. I really loved the writing and being able to see a more emotional side of Meghan Quinn's story-telling. You can definitely tell that Meghan put her heart into these books because the writing is so poetic and raw. I don't think I've ever been so emotionally fucked by a book in my life before, but gosh did this story rip me a new one. I literally felt like my heart was being torn apart and at one point, I felt like I was betraying my own self because I had a change of heart. I can't go into more details because then I would be dropping some major spoilers but you will experience every emotion under the sun while reading this duet so you may want to stock up on some tissues and maybe even pull out some whiskey to help get you make it through. 
Now onto the romance. While there are two romances that occur in this duet, there is no love triangle as these romances occur months apart from one another. The Upside of Falling is about Rory and Colby. I really loved Rory and Colby together and they were my endgame couple. Colby was so hesitant to let Rory in when they first met, but her persistence eventually paid off. I loved seeing them open up to each other in their letters and I felt like after they broke down all those walls, things just fell into place for them…for a while at least. I was hurt to see this relationship come to an end, but I think Rory made the right decision to let Colby go because I do believe that he would've resented her had he not been able to go after his dreams. But don't count Colby out of the running just yet because he does return with intentions of getting the love of his life back so I still held onto hope that my ship would sail.
Then we have The Downside of Love which is about Rory and Stryder. Rory and Stryder's romance was a little different because these two were friends who eventually became something more. I really struggled while reading their story because my heart was with Colby and I just couldn't understand why Meghan would bring Stryder into the picture. But then I got to know Stryder better. And then I got to see how Stryder and Rory fell for one another. And then I started to rage because my heart could not fucking deal with this shit. This book was the most difficult to read because being in Stryder's head was not easy and I couldn't help but feel sorry for him. I wanted him to find happiness because he deserved it. The romance is where I really struggled while reading this duet and whether or not I agree with how things played out, I do think Meghan gave both these relationships a fair shot so I can't be mad about that.
Now for our characters. I think Meghan did a really great job with these characters. They were perfectly flawed and relatable and just so human and it's what makes this story so compelling despite it being hella messy. Colby and Stryder have quite a lot in common. They both come from abusive households and they both have dreams of becoming fighter pilots so they can escape their toxic lives. While they have a lot in common, they do have some differences. Colby is more of the silent type who only let's a few people see who really is. Stryder on the other hand will only let you see what he wants you to see and underneath all that charm is a guy who just wants to know that he is worth it. Not gonna lie, I do have a favorite hero between the two but I won't say who because spoilers. Then we have Rory, the girl who both of these guys can't help but fall for. I'm gonna be honest, I have a love/hate relationship with Rory. I like Rory because she has a good heart with good intentions and she loves to help people which is why she gravitated towards Colby and Stryder. But I was also very mad at her for some of the choices she made and it made me want to pull my hair out while reading.  
I went into this duet expecting one thing and I came out of it with something totally different and I think that's why I'm having such a hard time rating these books. There were so many things I loved about this duet, but at the same time, there are so many things that left me angry and wanting to fight everyone in these books. Since I'm so conflicted with my feelings, I decided to not give this duet a rating because I don't think any numbered rating could accurately reflect how I felt while reading these books. If you do want to take a chance and pick up this duet, then I would say don't go into it with any expectations because you might find yourself disappointed if things don't end up going the way you wanted them to. Just remember that there are no guarantees when it comes to love and this duet shows you exactly that.