Down with Love (Love Wars #1)
Publication Date:
August 7, 2018
Rating: ★★★
Synopsis via Goodreads: Sparks fly when the hot-shot divorce lawyer meets the high-powered wedding planner. The only question is, what kind?

If you ever get married, remember my name: Max Henderson. In my line of work, you acquire a certain perspective on supposedly everlasting unions. . . .

1. Pre-nups are your friend. 
2. The person you married is not the person you're divorcing. 
3. And I hope you didn't spend much on the wedding because that was one helluva waste of hard-earned cash, wasn't it? 

But some guys are willing to take a chance. Like my brother, who thinks he's going to ride off into the sunset with the woman of his dreams in a haze of glitter on unicorns. And the wedding planner—the green-eyed beauty who makes a living convincing suckers to shell out thousands of dollars on centerpieces—is raking it in on this matrimonial monstrosity. 

The thing is, Charlie Love is not unlike me. We're both cogs in the wedding-industrial complex. As the best man, I know her game—and I can play it better than her. But after one scorching, unexpected kiss, I'm thinking I might just want to get played.
*I received a copy of this book from the author/publisher in exchange for an honest review.* 
I've been on a roll when it comes to picking up new-to-me authors this year so I was ready to add Kate Meader to the list. I've had Kate's sports romance series on my TBR for some time now though I never got around to reading them, but when I saw read the synopsis for her the first book in her new series my interest piqued and I decided to give it a go.
Down with Love is a hate-to-love romance about a cynical divorce lawyer and a hopeful wedding planner. Max Henderson has seen what happens when love falls apart so to spare his heart of any of that pain, he's sworn off love. But when his brother proposes to his girlfriend, Max has no choice but to get in the wedding spirit. It doesn't help that their wedding planner, Charlie Love, embodies everything Max despises about marriage and the two waste no time clashing heads. But despite their resistance, Max and Charlie can't help but feel drawn to one another and soon that hate turns into something more.
I was really hoping that I would enjoy my first Kate Meader book, but sadly this one just didn't work for me. I think it's because of two things: (1) I couldn't connect with either of our characters and (2) the romance fell flat for me. Max and Charlie have both been hurt by love which is why they are both so guarded, but where as Max becomes a cynical romantic, Charlie still has hope. The thing is, Max wasn't as cynical as I wanted him to be. He actually was the one who ended up chasing after Charlie and not the other way around. And I get Charlie was afraid of being defined by her past but I felt like that was the only interesting about her character. The romance lacked the passion I was yearning for. Just when I was getting in my emotions, the scene would end and I was left wanting more! It felt like a total tease to be honest. Down with Love was an okay read but I probably won't continue the series. I just don't want to be disappointed again but I'm still hoping I'll have better luck with Kate Meader's sports romance series.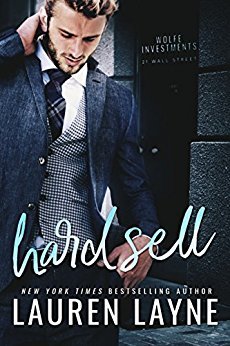 Hard Sell (21 Wall Street #2)
Publication Date:
September 4, 2018
Publisher:
Montlake Romance
Add to Goodreads || Buy on Amazon  
Rating: ★★★★
Synopsis via Goodreads: He's a Wall Street wolf. She's been hired to tame him. From New York Times bestselling author Lauren Layne comes a wildly sexy novel of business and pleasure.

Twenty-eight and filthy rich, Matt Cannon is the youngest broker on Wall Street. He may be a "boy wonder," but he's every inch a man. Ask any woman—any night. But when Matt's latest fling makes scandalous headlines, his clients get anxious, and his bosses at Wolfe Investments level an ultimatum: keep his assets zipped, get a "real" girlfriend, and clean up his act. Only one woman can help Matt with something this hard.

For PR genius Sabrina Cross, the best fixer in Manhattan, playing Matt's steady is going to be a challenge, even if it's just for show. They already have an explosive history, she can't stand the cocky party boy, and worse—she can't stop thinking about him. So who'll dare to break her "no touching" rule first? Because when that happens, Matt and Sabrina's game of let's pretend will get so hot it could set both their reputations on fire.
*I received a copy of this book from the author/publisher in exchange for an honest review.* 
After reading Hot Asset, I was hyped to dive into the second book in the 21 Wall Street series because I was already shipping the couple for this book and I needed to know what the hell went wrong in the first place to cause such animosity between the pair.
Hard Sell is an enemies-to-lovers romance and follows our main characters, Matt Cannon and Sabrina Cross. After Matt's wild night in Vegas makes headlines in the Wall Street Journal, his bosses decide that he needs to clean up his image or else. Turning to the only person who will be able to get him out of this mess, Matt hires Sabrina to play his pretend girlfriend to help show that he is not an irresponsible party boy. They both agree to not let their past feelings affect the situation, but when one of them starts falling for the other, things become complicated. 
I had some high expectations going into this book and I'm happy to say that most of them were met. I was sucked into this book immediately and was dying with laughter as I read the banter between Matt and Sabrina. The chemistry between them was off the charts and all the sexual tension had me yelling at my eReader a few times because I became impatient and just wanted Sarbina and Matt to get in on already, lol. I adored Sabrina from the start. She's had a rough upbringing, but she managed to make a better life for herself and she does it with style and grace. She's such a boss lady and is truly goals. She's definitely my favorite heroine in this series so far. I thought I wouldn't be a fan of Matt's playboy attitude, but he's a low key sweetheart. I loved how caring he was when he was around Sabrina and how he was willing to become a better person for her. My only criticism for this book was that I wanted it to be a chapter or two longer because I felt like things wrapped up too quickly at the end. All in all, Hard Sell was a great sequel and I can't wait to get my hands on the final book in this series. I feel like Lauren Layne left the best for last and I'm crossing my fingers that I'm right about it!