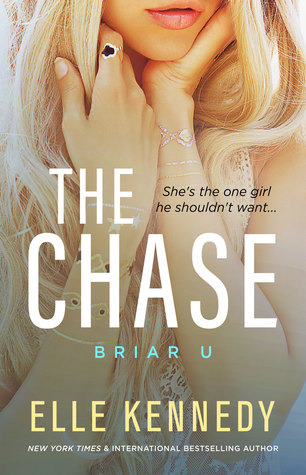 Publication Date:
August 6, 2018
Publisher:
Self-published
Add to Goodreads || Buy on Amazon  
Rating: ★★★★
Synopsis via Goodreads: Everyone says opposites attract. And they must be right, because there's no logical reason why I'm so drawn to Colin Fitzgerald. I don't usually go for tattoo-covered, video-gaming, hockey-playing nerd-jocks who think I'm flighty and superficial. His narrow view of me is the first strike against him. It doesn't help that he's buddy-buddy with my brother.

And that his best friend has a crush on me.

And that I just moved in with them.

Oh, did I not mention we're roommates?

I suppose it doesn't matter. Fitzy has made it clear he's not interested in me, even though the sparks between us are liable to burn our house down. I'm not the kind of girl who chases after a man, though, and I'm not about to start. I've got my hands full dealing with a new school, a sleazy professor, and an uncertain future. So if my sexy brooding roomie wises up and realizes what he's missing?

He knows where to find me.
*I received a copy of this book from the author/publisher in exchange for an honest review.*
THE BRIAR UNIVERSITY BOYS ARE BACK…
… AND SO IS THE QUEEN OF COLLEGE ROMANCE! To say that The Chase was one of my most anticipated releases for the year would be an understatement. As soon as this bad boy hit my Kindle, I spent the night devouring it because I was not about have anyone spoil this book for me! Technically you don't need to read the Off-Campus series before you pick up The Chase, but I highly recommend that you do because why would you want to miss out on all the fun in the Off-Campus?!
Summer Di Laurentis is starting her first semester at Briar University after being kicked out of her previous school and things are already not going according to plan as she finds herself without a place to live. Her brother calls in a favor and Summer ends up moving in with three of the Briar hockey players—one of the players being Colin Fitzgerald (AKA Fitzy). Summer has been crushing on Fitzy for months, but the tattooed hockey player isn't willing to give her the time of day, though his smoldering brown eyes tell a different story. Now that they're living under the same roof, it's only a matter of time until all the tension between the two comes to a boil and fireworks explode. 
I was hooked on The Chase right from the start and devoured it in less than 24 hours! Gosh I miss being in this world with these characters and all their shenanigans. Speaking of characters, I already have a favorite character in this series and her name is Brenna Jensen! I swear, Brenna is my soul sister because we are one in the same. She's a little rough around the edges but she's a great friend to Summer and I can't wait until her books releases! 
Summer fits her name to a T. She's vibrant, energetic and just a fun-loving person to be around. It's never a boring time when Summer is around and she's super protective of the people she loves. I adored her to bits. While she's usually in good spirits, there were times throughout this book where we see Summer struggle with a learning disability. She has a hard time focusing as she has ADHD and there were many times where she puts herself down, but she doesn't give up even though there were times that she wanted so badly to do so. Fitzy is not at all what I was expecting him to be—HE'S A HOT NERD! Hello kink! I will say that there were moments where I wanted to yell at Fitzy for being so hard-headed, but he has his reasons for being closed off. Once we see him start to open up, we realize that Fitzy is a teddy bear at heart.
The romance is a bit on the angsty side because Fitzy takes a bit to come around but once he finally gives in, the chemistry is off the charts! I think Fitzy and Summer make a great pair because they balance each other out. Even though Summer is out-going and free spirited, Fitzy helps to keep her grounded when she becomes overwhelmed with her school work and provides her with emotional support. Summer helps Fitzy to get out of his comfort zone and she inspires him in a number of ways.
While I adored all the characters in this book, there were two things that didn't work for me. There's kind of a love triangle in the first half of this book and I felt that it was completely unnecessary. It didn't add to the story at all and it ended so abruptly that it left me wondering what the point of all that drama was for. I also felt like the ending was rushed. This book definitely needed an epilogue to tie up the few loose ends that were left remaining.
The Chase was a great start to Elle Kennedy's newest series and I'm excited to see what's in store for the rest of the characters. 2019 can't come soon enough!