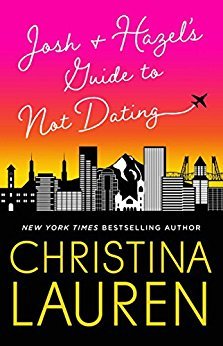 Josh and Hazel's Guide to Not Dating
Publication Date:
September 4, 2018
Add to Goodreads || Buy on Amazon  
Rating: ★★★½
Synopsis via Goodreads: Most men can't handle Hazel. With the energy of a toddler and the mouth of a sailor, they're often too timid to recognize her heart of gold. New York Times and #1 international bestselling author Christina Lauren (Roomies, Beautiful Bastard) tells the story of two people who are definitely not dating, no matter how often they end up in bed together.

Hazel Camille Bradford knows she's a lot to take—and frankly, most men aren't up to the challenge. If her army of pets and thrill for the absurd don't send them running, her lack of filter means she'll say exactly the wrong thing in a delicate moment. Their loss. She's a good soul in search of honest fun.

Josh Im has known Hazel since college, where her zany playfulness proved completely incompatible with his mellow restraint. From the first night they met—when she gracelessly threw up on his shoes—to when she sent him an unintelligible email while in a post-surgical haze, Josh has always thought of Hazel more as a spectacle than a peer. But now, ten years later, after a cheating girlfriend has turned his life upside down, going out with Hazel is a breath of fresh air.

Not that Josh and Hazel date. At least, not each other. Because setting each other up on progressively terrible double blind dates means there's nothing between them…right?
*I received a copy of this book from the author/publisher in exchange for an honest review.*
Before this year, I had never read a book by Christina Lauren. Now in the past five months, I've read three books by this author duo and I can definitely see why their books are so popular among readers in the romance community. When I picked up their newest release, I didn't have a clue what it would be about, but I had yet to strike out with their books so I hoped that Josh and Hazel's Guide to Not Dating would not disappoint as well.
When Hazel Bradford first met Josh Im, she threw up all over his shoes. That was the first of their many awkward encounters and though they haven't seen each other since college, things haven't changed one bit. Now all grown-up, Hazel still marches to the beat of her own drums and isn't afraid to speak her mind while Josh tends to be more relaxed and is a man of little words. Hazel decides to claim Josh as her best friend and when he gets his heart broken, she is determined to find him the woman of the dreams. But the girl of Josh's dream may be closer than she thinks.  
Josh and Hazel's Guide to Not Dating is an opposites attract romance between a wild-spirited heroine and a laid-back hero. This book kind of reminded me of one of those 90's teen movies from back in the day where the quirky girl gets the hot guy she's had a crush on since forever. I'm such a sucker for those types of movies and it's one of the reasons why I enjoyed the romance between Josh and Hazel. These two were setting each other up on dates and it was hilarious to watch them be in these awkward situations when deep down they both knew the person they wanted to be with was standing right in front of them all along. I also loved the importance that family and culture played in this book. Josh is Korean so there were bits of Korean culture weaved in throughout the book. Josh and Hazel both have tight-knit bonds with their family members and those relationships influenced their relationship with each other, especially Hazel who wasn't willing to settle when it came to love. 
It took a few chapters but Hazel's quirky personality finally grew on me and I couldn't help but adore her character. She has a big personality and can be overly dramatic at times, but I like the fact that she doesn't hide who she is nor does she allow anyone to disrespect her or put her down in any way. She doesn't change who she is either and isn't willing to settle because she knows she deserves someone who is gonna love her for who she is. I personally found Hazel's character to be a breath of fresh air and I low key wish I was as comfortable in my own skin like she is. Josh is the silent, broody type which is my favorite kind of hero! Not gonna lie, I thought Josh would be judgmental as hell in the beginning, but just like with me, Hazel ended up growing on him and he fell for all her quirky ways. Even though Hazel and Josh are complete opposites, they work well together because they balance each other out and bring out the best parts of one another when they're together. 
Though I loved both of our main characters and the romance charmed me in a number of ways, I was not at all a fan of the plot twist at the end. This particular twist is one of my least favorite tropes and I personally find it to be a cop out way to resolve conflict in order to bring about the happily-ever-after. Also, the ending felt rushed considering everything was resolved so easily.
Despite the unsatisfying ending, Josh and Hazel's Guide to Not Dating was still a cute read and I'm sure most readers will end up loving this author duo's newest release. I'm excited to see what this author duo has in store for us next…although I'm hoping it will be a while until then so I can play catch up with their back list releases, lol.