A Princess in Theory (Reluctant Royals #1)
Publication Date: F

ebruary 27, 2018
Rating: ★★★★
Synopsis via Goodreads: From acclaimed author Alyssa Cole comes the tale of a city Cinderella and her Prince Charming in disguise . . .

Between grad school and multiple jobs, Naledi Smith doesn't have time for fairy tales…or patience for the constant e-mails claiming she's betrothed to an African prince. Sure. Right. Delete! As a former foster kid, she's learned that the only things she can depend on are herself and the scientific method, and a silly e-mail won't convince her otherwise.

Prince Thabiso is the sole heir to the throne of Thesolo, shouldering the hopes of his parents and his people. At the top of their list? His marriage. Ever dutiful, he tracks down his missing betrothed. When Naledi mistakes the prince for a pauper, Thabiso can't resist the chance to experience life—and love—without the burden of his crown.

The chemistry between them is instant and irresistible, and flirty friendship quickly evolves into passionate nights. But when the truth is revealed, can a princess in theory become a princess ever after? 
I've been meaning to add more royal romances to my life after having devoured Emma Chase's Royally series, but I just never got around to it. Then my blogger friend Nick told me how she was loving Alyssa Cole's Reluctant Royals series and thought I might like it too. With the second book in the series having just been released a few weeks ago, I thought it would be the perfect time to binge-read the two and hoped this new series would give me the royal romance fix I've been longing for.
Graduate student and aspiring scientist Naledi Smith has been on her own for as long as she could remember but she's never allowed that to hold her back. With summer fast approaching, her main focus has been on obtaining an internship and between running numbers and waiting tables, she hasn't had much time for anything else. When numerous emails start piling up in her inbox stating that she's betrothed to the Prince of  Thesolo, she quickly brushes it off as nothing more than spam. Miles away, Prince Thabiso is determined to find his long, lost betrothed and bring her back home. He makes his way to the Big Apple but when Naledi mistakes him for someone else, he uses the opportunity as way to get to know her before he tells her the truth. Things don't end up going according to plan and when Naledi uncovers the truth about her past she will have to make a decision that will forever change her life.
This was my first read by Alyssa Cole and it was a hit! I love book set in NYC so it's no surprise that I easily found myself being addicted to this story. I really loved that this book features a Black woman in STEM as the lead and now I want to read more romance book with WOC in STEM because there aren't enough books like this one out there. Naledi is bit rough around the edges at first. Having lost her parents at such a young age and bouncing from foster home to foster home, she's kind of built a wall around herself to prevent her heart from getting hurt. When she eventually learns the truth about who she is, she has to decide whether or not she is going to trust Thabiso and let him see her for who she really is. Prince Thabiso is a whole mess. His character made me laugh so hard because he's a prince who is so used to having things done for him and now he has to pretend to be a commoner and do things for himself and it was just entertaining to watch. He legit was setting fire to things and Naledi had to come save the day and put them out. Also, his reactions to NYC are so typical of those who don't live here and I was dying over them. Funny moments aside, Thabiso is genuinely a great guy who loves his people, his country and just wants to do right by them. I loved that he never pressured Naledi into making decisions and allowed her to make her own choices when she was ready to do so. The romance was a tad bit on the angsty side where things would go from steamy to cool to steamy again and I was just waiting for these two to make up their minds because I wanted them to be together so badly. There was only one thing that bothered me in this book and that was the ending. The story just ended so abruptly and I was confused as to where the rest of it was. There definitely needed to be a little epilogue to tie up some remaining strings because I have some unanswered questioned. Maybe they'll be answered in the next book? Overall, A Princess in Theory was a fun, romantic read and I'm looking forward to the rest of the book in the Reluctant Royals series and I hope they're just as good as this book!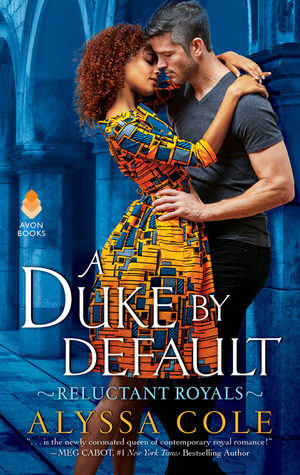 A Duke by Default (Reluctant Royals #2)
Publication Date:
July 31, 2018
Add to Goodreads || Buy on Amazon  
Rating: ★★★★½
Synopsis via Goodreads: Award-winning author Alyssa Cole's Reluctant Royals series continues with a woman on a quest to be the heroine of her own story and the duke in shining armor she rescues along the way

New York City socialite and perpetual hot mess Portia Hobbs is tired of disappointing her family, friends, and—most importantly—herself. An apprenticeship with a struggling swordmaker in Scotland is a chance to use her expertise and discover what she's capable of. Turns out she excels at aggravating her gruff silver fox boss…when she's not having inappropriate fantasies about his sexy Scottish burr.

Tavish McKenzie doesn't need a rich, spoiled American telling him how to run his armory…even if she is infuriatingly good at it. Tav tries to rebuff his apprentice, and his attraction to her, but when Portia accidentally discovers that he's the secret son of a duke, rough-around-the-edges Tav becomes her newest makeover project.

Forging metal into weapons and armor is one thing, but when desire burns out of control and the media spotlight gets too hot to bear, can a commoner turned duke and his posh apprentice find lasting love?
After reading A Princess in Theory and absolutely loving it, I knew I had to get my hands on A Duke by Default immediately. I didn't even read the blurb before diving into this book so I had no idea which of our characters would be getting a happily ever after next, but if this book is anything like the first book then I knew I would be in for a treat!
Looking to clean up her act, Portia Hobbs decides to take up an apprenticeship in Scotland with the hopes of finding herself and finally feel like she's worth something. What Portia didn't bargain for was Tavish McKenzie, a grumpy, older Scotsman for a boss who can barely look her in the eye and refuses to teach her the art of sword making. Even though the two don't see eye-to-eye on many things, neither can deny the spark between them. But when Portia discovers that her boss in actually the heir of a deceased duke, both their lives are thrown into the spotlight and they will have to figure out a way to navigate their relationship before things go up in flames.
I went into this book completely blind, but once I realized that Portia was our leading lady I was ecstatic because I've been curious to know more about the girl with her head in the clouds. I gotta say, Portia's character totally surprised me in more ways than one. I wasn't expecting her character to have so many layers and I also found myself relating to her a lot. She's this woman who is struggling to find her place yet at the same time she's trying to not disappoint her friends and her family and she can't seem to find a balance. She struggles with the possibility of having ADHD and coming to the realization she is worth so much more than she gives herself credit for and if anyone is deserving of a happy ending, it was Portia. And then we have our broody hero, Tavish. Just like the metals he works with, Tavish is rough around the edge but once you smooth out those edges he isn't as insufferable as he seems. Tavish is also biracial which I wasn't expecting but loved! The romance was a slow-burning one since Tavish and Portia keep trying to deny their feelings for one another but once they do get together, the chemistry between them was fire! I also lived for their banter. One thing I really enjoy about this series is the female friendship between Ledi, Portia and Nya. These girls are hilarious together and are so supportive of one another even though they're living on different continents. Though I really loved this book, it does have one flaw. Just like with the previous book, this book also ends on a rather abrupt note and I just really wanted an epilogue to tie up the loose ends. A Duke by Default was an amazing romance and I'm anxiously awaiting the final book in this series. Hopefully the third book will have an epilogue because I can't deal with anymore loose ends.