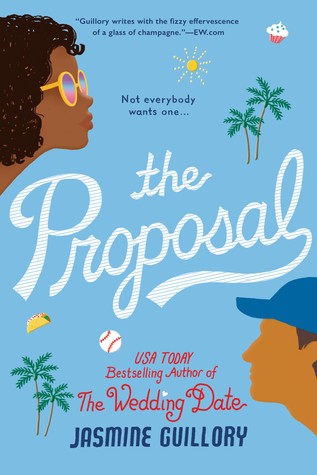 The Proposal
Publication Date:
October 30, 2018
Rating: ★★★
Synopsis via Goodreads: The author of The Wedding Date serves up a novel about what happens when a public proposal doesn't turn into a happy ending, thanks to a woman who knows exactly how to make one on her own…

When someone asks you to spend your life with him, it shouldn't come as a surprise–or happen in front of 45,000 people.

When freelance writer Nikole Paterson goes to a Dodgers game with her actor boyfriend, his man bun, and his bros, the last thing she expects is a scoreboard proposal. Saying no isn't the hard part–they've only been dating for five months, and he can't even spell her name correctly. The hard part is having to face a stadium full of disappointed fans…

At the game with his sister, Carlos Ibarra comes to Nik's rescue and rushes her away from a camera crew. He's even there for her when the video goes viral and Nik's social media blows up–in a bad way. Nik knows that in the wilds of LA, a handsome doctor like Carlos can't be looking for anything serious, so she embarks on an epic rebound with him, filled with food, fun, and fantastic sex. But when their glorified hookups start breaking the rules, one of them has to be smart enough to put on the brakes…
*I received a copy of this book from the author/publisher in exchange for an honest review.* 
I read Jasmine Guillory's debut romance, The Wedding Date, earlier this year and completely fell in love with her writing so I was super excited to dive into The Proposal once it landed on my eReader. I was already a fan of the hero for this book so I happy to see him get his own happily-ever-after and hoped that it would live up to that of the previous book. Unfortunately that was not the case with this book…
When Nikole Paterson is utterly humiliated by her boyfriend in public, Carlos Ibarra comes swooping in and saves the day by helping her get out of the embarrassing situation. In a few short weeks, the two go from complete strangers to friends and slowly a spark is ignited between them. But neither of them is ready to commit to a relationship so they consider a casual one with no pressures and Nikole hopes that Carlos will help her move on from her last relationship. But when one of them start catching feelings, will the other pull the plug on their little arrangement?
I had high hopes for The Proposal when I started reading, but 'Second Book Syndrome' struck again because I didn't end up loving this book like I did with The Wedding Date. Now, not all of it was bad. The first third of the book was entertaining considering all the public drama surrounding Nikole's breakup. I also loved our secondary characters! Nikole has such a great group of friends who were there for her when she was dealing with her asshole of an ex. I loved Carlos' family so much and how caring Carlos was to his cousin and sister. But things started going downhill once I got to the later half of the book and I kind of disconnected from the story. The thing is, this book has a lot of internal dialogue and majority of the time is spent being in Carlos and Nikole's head as they try to figure out their feelings for one another. It was just a constant back and forth of both them fighting their feelings for one another and it just bored me. I also didn't feel like Carlos and Nikole spent enough time together so I couldn't feel the connection between the pair. This also made it difficult for me to connect with Nikole's character. Like, she fell very flat for me. Carlos annoyed me at times because he was just acting like a child, especially towards the end. Speaking of the end, the grand gesture scene where one of the main characters proclaim their love for the other was one of the most awkward grand gesture scenes I've ever read. There wasn't a good enough build up to this scene and I felt like it totally came out of left field. I think I ended up skimming that last few chapters just to see how things would play out for these two so I could move on to my next read. I'm just disappointed y'all and I wish Carlos had gotten a better story. Even though The Proposal ended up being a let down for me, I still recommend picking up The Wedding Date because it's just too cute to miss out on and hopefully Jasmine's next read will go over better for me.
America's Sweetheart (Real Love #5)
Publication Date:
October 2, 2018
Add to Goodreads || Buy on Amazon  
Rating: ★★★
Synopsis via Goodreads: Old flames burn bright. When a disgraced starlet returns home to lick her wounds, she discovers that her high school sweetheart is just as tempting as ever.

"No one writes big-hearted bad boys like Jessica Lemmon!"—New York Times bestselling author Lori Foster

Allison: When I left for California, I gave myself a new name and never looked back. Now my carefully crafted good-girl image is getting torn to shreds in the press thanks to my Oscar-winning A-hole of an ex-boyfriend. So I escape to the only safe haven I know and trust—my hometown—to take a breather while I plot my triumphant Hollywood comeback. However, when I arrive at my parents' house, Jackson Burke answers the door instead. And suddenly the past comes rushing back. . . .

Jackson: First kiss. First time. First love. Yep, Allison Murphy and I shared a lot of firsts back in the day. When she left, she took half my heart with her. Now she's back in town, and even though I swore I'd keep my distance, her parents hired me to remodel their house, and I'm going to finish the job. But one hot kiss later, suddenly the press is calling us the next big celebrity couple. Sure, I'll play the part, for Allison's sake—but I refuse to let her close enough to break my heart all over again. . . .
*I received a copy of this book from the author/publisher in exchange for an honest review.* 
America's Sweetheart is the fifth book in Jessica Lemmon's Real Love series and can be read as a standalone. I requested it on a whim because even though the books in this series have been a hit or miss with me, I was hoping this one would be a hit. Plus, I'm a sucker for second-chance romances and my fingers couldn't resist hitting the request button.
Allison Murphy and Jackson Burke were high school sweethearts who thought they would end up together forever. But things fell apart when Allison makes it big in Hollywood and moves out there to pursue a career in acting. Ten years later and Allison's career is up in the air after she gets caught in a scandal and she decides to head back home to hide away. Jackson never thought he see Allison again, but when she ends up in his arms again he can't help but think about what they could've been. He knows her return is only temporary and he's willing to take whatever Allison is willing to give but will he willing to let her go for a second time?  
I was really hoping that I would end up loving this book since it has my all-time favorite trope but lack of depth between the writing and the characters just left me craving something more. Let's start with the writing. I thought this book would be more emotional considering these two were together for years but there were no "pull at the heart strings" moment. Like even their breakup didn't even stir up any emotions because neither one fought to stay together. Another thing that irked my nerves with the writing was that there was no indication for when the POVs switched. The first half of the book is in Jackson's POV and then all of a sudden it switches to Allison's and I ended up having to start from the beginning of the chapter again because I was so confused as to what was going on. Now for our characters. I really like Jackson. He's such a gentleman and I really connected with his POV. He was the heart of this story and the only reason why I even finished this book. I wasn't a fan of Allison's character at all. She was just so shallow and self-centered. I didn't feel the chemistry between her and Jackson and to be honest I felt like Jackson was more invested in their relationship than Allison ever was. Like you were in a relationship with this dude for years, known him since you were little you should be able to read him like an open book. It just frustrated me how Allison could be so blasé about things and I struggled to connect with her in the end. Overall, America's Sweetheart ended up being a quick read that left me less than impressed. I'm not sure if Jessica plans on extending this series but I plan on calling it quits with this series because I just not invested in it anymore.