Cuffed (Everyday Heroes #1)
Publication Date:
October 23, 2017
Publisher:
JKB Publishing, LLC.
Rating: ★★★★
Synopsis via Goodreads: From the New York Times bestselling author, K. Bromberg, comes a new standalone that proves true love will always stand the test of time. 

"I hate you. I never want to see you again."

Grant Malone is not the reason I moved back to Sunnyville—at least that's what I tell myself. Yet, those parting words I said to him back in third grade, ring in my ears every time a townsperson brings up one of the Malone boys. I thought time had healed my wounds. I was wrong. Nothing could have prepared me for how I felt when I finally saw him again.

Twenty years does a lot to turn a boy into a man. One who hits all my buttons—sexy, funny, attractive, and a police officer. But Grant is off limits because he knows too much about my past.

But I'm drawn to him. That damn uniform of his doesn't hurt either. It'll be my downfall. I know it.

What's one night of sex going to hurt . . . right?

***

I've always loved Emmy Reeves.

That's why I'm shocked to see her all these years later. The shy girl I once knew is all grown up.

Adventurous and full of life, she owns my heart now, just as much as she did back then. Convincing her of that is a whole different story.

I'll give her the one night she asks for—like that's a hardship—but when it comes to letting her walk away after, she has another thing coming. There's no way in hell I'm letting her go this time without a fight.
I read Worth the Risk, the third book in the Everyday Heroes series, a few months back and enjoyed it for the most part and it left me wanting to know more about the other two Malone brothers. Since I had some free time in my reading schedule, I decided to go back and pick up the first two books in the series to satisfy my curiosity and hoped that these heroes in uniform wouldn't disappoint. 
Grant Malone and Emerson Reeves were childhood best friends until a dark secret shook their world and pulled them apart. Twenty years later and Emerson has finally returned to the small town of her childhood and ends up running into the one person she was hoping to avoid. Though neither one has forgotten about each other, Emerson is not ready to bring up the past so she tries to avoid Grant as much as possible. But that's easier said than done so instead she agrees to a one night stand—one night of passion to work each other out of their system. But will one night be enough?
To be honest, I wasn't quite sure what to expect when I picked up Cuffed but I sure as hell wasn't prepared for such a heartbreaking story. This is what I get for not reading blurbs I guess. This story is a lot heavier than I expected it to be. It deals with themes of sexual abuse and self harm so fair warning. When I first saw the amount of chapters in this books, I was exhausted because I tend not to read books with more than 40 chapters so 71 chapters was pushing way past my limit. But this romance is not a simple one and all those chapters were required to pull it off. I loved how the story alternated between the past and the present and the slow build up to reveal what really happened twenty years ago. I was just on edge the whole time because like I'm obviously aware of what happened but then we get the whole back story and my heart was just shattered once again. K. Bromberg really pulled at all the emotions with this book. Emerson is rough around the edges and a bit hard to love at first because she is just constantly pushing people away which is understandable considering all that's she's been through. She struggles to find stability in this book and allowing herself to let Grant in because he's the only other guy she's ever cared about and she doesn't want to end up hurt again. Grant is a cocky son of bitch who thinks he's tough shit but underneath that uniform is a guy with a heart of gold who will literally put his own life on the line to protect those he care about. The romance is so freakin' angsty but there's a lot of healing that needs to happen before our characters can find a way to move on from the past and trust one another. The wait was worth it and the ending was beautiful. Cuffed was an emotional read that broke me to pieces but put me back together again by the end. I'm itching to pick up the second book in this series ASAP and I hope it's just as good as this book!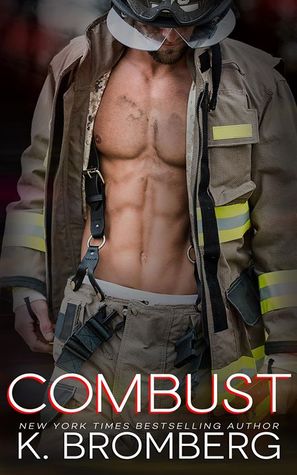 Combust (Everyday Heroes #2)
Publication Date:
January 29, 2018
Publisher:
 JKB Publishing, LLC.
Add to Goodreads || Buy on Amazon  
Rating: ★★★★½
Synopsis via Goodreads: From New York Times Bestselling author, K. Bromberg, comes a new standalone book. Just how hot will firefighter Grady Malone turn up the heat?

Songwriter Dylan McCoy has been burned.

By her boyfriend she found in her bed… with someone else. 

By the contract she signed that obligates her to work with him until the songs for his new album are complete.

By her agent when she asked Dylan to keep their breakup on the down-low.

When she finds herself in Sunnyville, she refuses to let her new roommate burn her too. Still… a rebound has never looked so good.

That's her first thought when she sees firefighter Grady Malone. Sexy. Charismatic. Unapologetic. He's a man who carries his own scars — the ones on his back, the survivor's guilt on his soul, and the fear in his heart.

When an unexpected visitor puts their roommate status to the test, will their undeniable attraction burn out, or will they both take a chance and play with fire?
I didn't read the blurb for Combust before picking it up, but I was still running on a high after finishing Cuffed so I was ready for whatever this book had in store for me!
After walking in on her rockstar boyfriend in bed with a woman that wasn't her, Dylan McCoy decides that she needs a break from the L.A. spotlight and finds herself shacking up with her brother's friend, Grady Malone. As a firefighter, Grady is used to putting out all types of fires, but when it comes to the attraction between him and Dylan, this is one flame he isn't willing to put out just yet. While both of them know that their time together is just temporary, they can't help being drawn to one another and when circumstances push them closer together how long will it be until they give into temptation?     
I went into this book hoping that it wouldn't be as emotional as Cuffed because yo gurl couldn't handle being ripped to shreds again. While Combust wasn't as of a heavy read as its previous installment, it still had me shedding some tears so you may wanna grab some tissues before giving this book a go. When I first started this book, I thought it would be filled with drama because any romance involving musicians always have some type of drama going on. And I'll admit, the first half of the book had its fair share of drama but then we got to the second half and that's when shit got real and emotional and I was ugly crying because this all just came out of left field and I was not prepared. NOT PREPARED AT ALL! Dylan is a songwriter who is kind of a bit lost because her life has never been stable and she always feels like she's second best and for once in her life she just wants to feel like she's worth something. Grady is a firefighter who is struggling with PTSD after being injured in a fire and he feels not worthy as he blames himself for his partner's death. At first, I wasn't sure how a songwriter and a firefighter would work as a couple because these two have personalities that are on opposite ends of the spectrum, but as I kept reading I realized that Dylan and Grady have a lot more in common than I had expected. Both of them deal with body image issues: Grady with his scars from the accident and Dylan who struggles to attain what she believes is the "perfect body". They believe that their physical appearance is a measure of their self-worth and it takes some time for both Dylan and Grady to realize that beauty in skin deep and it's what's on the inside that truly matters. I love seeing how they both challenged each other to face their fears and it inevitable brought them closer together in the end. The romance was rocky and it was touch and go for a minute at the end as I was literally holding my breath as I waited to see how things would play out for these two but I couldn't have asked for a better ending for Dylan and Grady. I can't finish this review without talking about one of my favorite characters throughout this whole series: Mama Malone. I love Mama Malone so much! She's so wise and I love how she always gives advice to her son's to fight for love and be open to it because it's such a rare thing to attain. Seriously, I want Mama Malone to adopt me like can she comes share her wisdom with me and fix my life, lol? All in all, Combust was a great read and it's definitely my favorite book in this series so far. I seriously can't wait to see what's in store for our next potential couple and hopefully catch up with one of my favorite book families again.