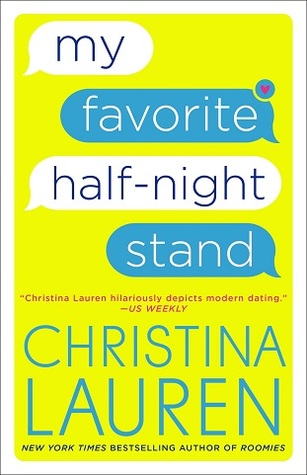 My Favorite Half-Night Stand
Publication Date:
December 4, 2018
Add to Goodreads || Buy on Amazon  
Rating: ★★½
Synopsis via Goodreads: By the New York Times bestselling author who "hilariously depicts modern dating" (Us Weekly), My Favorite Half-Night Stand is a laugh-out-loud romp through online dating and its many, many fails.

Millie Morris has always been one of the guys. A UC Santa Barbara professor, she's a female-serial-killer expert who's quick with a deflection joke and terrible at getting personal. And she, just like her four best guy friends and fellow professors, is perma-single.

So when a routine university function turns into a black tie gala, Millie and her circle make a pact that they'll join an online dating service to find plus-ones for the event. There's only one hitch: after making the pact, Millie and one of the guys, Reid Campbell, secretly spend the sexiest half-night of their lives together, but mutually decide the friendship would be better off strictly platonic.

But online dating isn't for the faint of heart. While the guys are inundated with quality matches and potential dates, Millie's first profile attempt garners nothing but dick pics and creepers. Enter "Catherine"—Millie's fictional profile persona, in whose make-believe shoes she can be more vulnerable than she's ever been in person. Soon "Catherine"and Reid strike up a digital pen-pal-ship…but Millie can't resist temptation in real life, either. Soon, Millie will have to face her worst fear—intimacy—or risk losing her best friend, forever.

Perfect for fans of Roxanne and She's the Man, Christina Lauren's latest romantic comedy is full of mistaken identities, hijinks, and a classic love story with a modern twist. Funny and fresh, you'll want to swipe right on My Favorite Half-Night Stand.
*I received a copy of this book from the author/publisher in exchange for an honest review.*
As a professor of criminology at UC Santa Barbara, Millie Morris is all studies and no play. The only time she ever lets loose is when she gets together with her strictly platonic best guy friends for a round of Monopoly. So when the upcoming commencement banquet turns into a black tie event, the group decides that it would be best if they all take dates. With no prospects in sight, they all sign up for an online dating app in hopes of getting lucky in the love department. But when Millie and one of the guys, Reid Campbell, end up spending the night in bed together, Millie realizes that she doesn't need a dating app to find a date—the guy she wants has been in front of her all along.
Christina Lauren has been pushing out new releases left and right this year and I've enjoyed them so far. Because of that, I decided to go into this book completely blind since I hadn't been let down by a CLo book yet. I think that's where I made the mistake when it came to this book because if I had read the blurb, then I would've seen that this story revolves around a trope that I'm not particularly a fan of. Before we get into what didn't work for me in My Favorite Half-Night Stand, let's talk about what did.
The idea of a group of socially awkward friends trying to put themselves out there and find a possible love connection is very appealing. My favorite part of this whole book is watching these group of friends try to navigate the world of online dating since they're a little out of touch with dating apps and all that. They're all professors who spend most of their time either teaching a class or running numbers in a lab so serenading someone is not something that came easy to any of them, but it was funny as hell watching them try. I also just loved the dynamic of this group and how close they all are. I totally lived for they're group chats because they were freakin' hilarious and had me wheezing! 
Now onto what didn't work for me. I was not a fan of Millie's character. I couldn't connect, didn't relate and couldn't stand her character at all. Millie's big issue is that she always has her walls up and doesn't let anyone in, including her closest friends. It's the main reason why Reid is hesitant to start a relationship with her because how can he be with someone who doesn't trust him with their feelings. Now of course she has a reason for why she doesn't let people in and it's a justifiable one. What isn't justifiable is the fact that Millie decided to catfish Reid and use this alternate persona as a way to open up to him because it was easier for her. Like why are we still catfishing people in 2018?? Also, Millie is out here claiming Reid as one of her best friend and even though she knew what she was doing was not okay, she still continued to do it anyways because it allowed her to feel closer to Reid. Like girl, you don't pull that shit with yo own friends! Honestly, Millie is a whole mess and I just don't fuck with this type of messy of behavior.
The romance was another thing that didn't end up working for me. It was dry, it felt forced and it just  fell completely flat. Millie would constantly state that her friendship with Reid was completely platonic and she's never felt anything more for him during the two years she's known him. Then the two hook up after having a little too much to drink and all of a sudden, they catching feelings for one another the next day??!! There was no build up to the romance and even before when these two were just friends I didn't feel the chemistry between them. Something that also really irritated me throughout this book was the fact that Millie was always a little tipsy whenever she and Reid would hook up. It was something Reid would always point out and I don't understand why Millie always felt like she needed liquid courage to be with Reid, especially after having already slept together few times. The whole thing just rubbed me the wrong way. 
Unfortunately, My Favorite Half-Night Stand was a book that didn't end up working for me but maybe it'll be a hit among other CLo fans. Hopefully their next release will be a much better read for me! *crosses fingers*