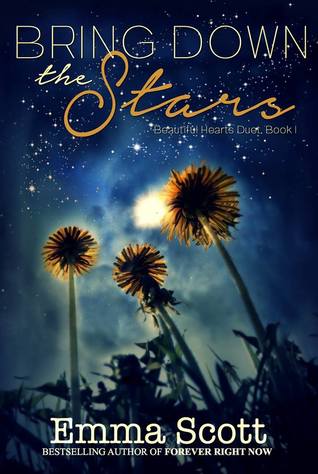 THE BEAUTIFUL HEARTS Duet by EMMA SCOTT
Long Live the Beautiful Hearts: Goodreads || Amazon
EMMA SCOTT HAS DONE IT AGAIN!
GUYS. I'M AN EMOTIONAL MESS. Like no amount of concealer is gonna be able to cover up these dark circles or puffy under eyes because I can't stop ugly crying! And the person to blame for my messy state is none other than Emma Scott, who has once again ruined my little heart with yet another amazing duet.
The Beautiful Hearts Duet was one of my most anticipated releases for the later half of 2018 but I didn't want to read the first book and then have to wait for the sequel to release because Emma Scott's cliffhangers are brutal and I wasn't about to deal with the stress of dying to know what would happen next. So I waited until both books were released to binge-read the hell out of them and let me tell you the lack of sleep and buckets of tears were so worth it!  
The Beautiful Hearts Duet is a new adult romance about a love that test the bonds of friendship and forever change the lives of three individuals. After walking in on her boyfriend in bed with a girl who wasn't her, Autumn Caldwell swears off relationships in hopes of never having suffer from a broken heart again. But love is a fickled little thing who doesn't play by the rules and Autumn finds herself falling for not one but two men who couldn't be more opposites. First we have Connor Drake: the golden boy who somehow manages to charm his way into Autumn life with his adoring smile. Then we have Weston Turner: a man of little words, unless he's putting pen to paper, who feels a connection with Autumn but doesn't think he's deserving of her. Her heart will be pull in two different direction and if she wants to avoid another broken heart, Autumn will have to make a choice and decide which of the two she's willing to risk it all for.   
Truth be told, I had some hesitations going into this duet because I am not at all a fan of geometrical relationships in romance books. Like my ass barely passed geometry in high school so love triangles and squares of any form are not something I fuck with. But I was willing to give Emma Scott the benefit of the doubt because she hasn't let me down yet and I crossed my fingers and hoped that this duet wouldn't be my first strike out with Scott's books. I'm also going to keep this review as spoiler free as possible because I think it's best to jump in completely blind with this story. 
Let's start with the writing. If you've read Scott's books before then you're well aware of how gifted of a story teller she is and this duet was no different. It's one of the main reasons I keep reading her books because despite all the pain and suffering, her words just speak to my soul and that's a rare thing to accomplish for a reader like me. With most of Scott's stories, she tends to incorporate some type of figurative language whether it be songs or stanzas to a play and for this duet it was poems. One of our main characters is a writer who voices his inner thoughts best through his poetry and goddamn they were beautiful. Scott definitely stepped up her writing game with this duet because I totally wasn't expecting to be so moved by these poems. The poems added so much depth and meaning to this story and they were probably my favorite things about this duet.
Now onto the romance. Like I said, I'm not usually a fan of love triangles in romance books. They're messy and over dramatic and completely stress me out! With most love triangles, I usually end up rooting for one ship from the start but for this book, I actually was rooting for all the characters to get a happily ever after. It's the first time this has ever happened to me so my stress level was through the roof because I was so worried that things wouldn't work out well for at least one of our characters and I wasn't about to have that! I also thought that a love triangle involving best friends would be super dramatic with a lot of cheating and back and forth nonsense, and I'm not saying that their wasn't any of that stuff, but for the most part our characters managed to deal with the romantic drama in a grown up manner. Things weren't as messy as I expected them to be and I love the fact that the end game for this romance didn't come at the cost of our two heroes losing their bromance. Speaking of bromance, the relationship between Connor and Weston was another one of my favorite things about this story. At first I had thought their relationship was a bit unhealthy considering how co-dependent they were on each other but after going through literal hell and back, these two came out on top and it made their friendship that much stronger. I'm pretty sure nothing can break these two apart now. 
Last but certainly not least, we have our characters. In the beginning, I was not a fan of Autumn's character. I thought she was whiny with her "woe is me" and "I'm giving up on love" attitude, but she eventually grew on me and I have a lot of respect for her. She is one hell of a woman and I admire her strength to stand by the side of these two men and go through all that hell because to be quite frank, a lot of people put in Autumn's situation would've probably walked away to save themselves from some heartbreak. But not Autumn. She stuck it out and fought for love even if it meant losing everything and in the end it was all worth it. Then we have Connor who seems to have a way with the ladies but he sure as hell wasn't charming me at first, lol. I initially thought that Connor was superficial and didn't care for anyone but himself but boy was I wrong. He actually has a lot of issues to work he needs to work through and does a lot of growing up and soul-searching throughout this duet to become to man he truly wants to be. He eventually won me over in the end and I care a lot for him. And let's not forget about my fave, Weston. Weston was like my child who I wanted to protect at all cost because he's had to fight to overcome so many obstacles to get to where he was in life. I felt like he deserved the world and his way with words just absolutely gutted me. He's definitely me new favorite by Scott.
I'm not gonna say too much about the second book but I will say that I totally saw how everything that happened in the second book coming. I think it's very obvious how things were going to play out for our three characters and who was going to be end game from the very start, but the journey to actually get to the end is what I wasn't expecting so despite its predictability, Scott still managed to keep me on my toes and delivered a damn good story too!
All in all, this duet was everything I hoped it would be and it's my new favorite story by Emma Scott. You will laugh, cry, curse at your eReader and spend numerous hours contemplating if the pain is even worth it but I assure you, it is. So if you have yet to read a book by Emma Scott, then you clearly need to fix your reading life and this duet would be the perfect place to start!
RATINGS
Bring Down the Stars:
★★★★
Long Live the Beautiful Hearts: ★★★★½