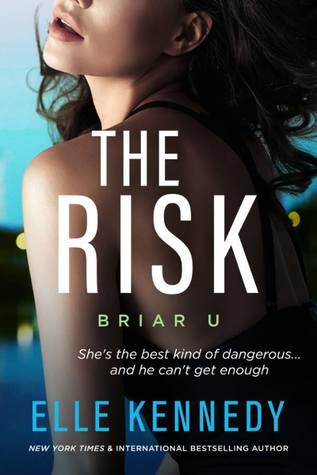 Publication Date:
 February 18
, 2019
Publisher:
Elle Kennedy Inc.
Add to Goodreads || Buy on Amazon  
Rating: ★★★★½
Synopsis via Goodreads: A sexy standalone novel from New York Times and international bestselling author Elle Kennedy. THE RISK takes you back to the world of hot hockey players, feisty heroines, bro banter, and steamy scenes… 

Everyone says I'm a bad girl. They're only partly right—I don't let fear rule me, and I certainly don't care what people think. But I draw the line at sleeping with the enemy. As the daughter of Briar's head hockey coach, I'd be vilified if I hooked up with a player from a rival team.

And that's who Jake Connelly is. Harvard's star forward is arrogant, annoying, and too attractive for his own good. But fate is cruel—I require his help to secure a much-coveted internship, and the sexy jerk isn't making it easy for me.

I need Connelly to be my fake boyfriend.

For every fake date…he wants a real one.

Which means this bad girl is in big trouble. Nothing good can come from sneaking around with Jake Connelly. My father would kill me, my friends will revolt, and my post-college career is on the line. But while it's getting harder and harder to resist Jake's oozing sex appeal and cocky grin, I refuse to fall for him.

That's the one risk I'm not willing to take. 
*I received a copy of this book from the author/publisher in exchange for an honest review.*
To anyone who thought that Brenna would end up with Hollis:
Okay, okay I'm done being petty now lol. Anyways, to say that The Risk was one of my most anticipated releases for this month would be an understatement. I had been refreshing my Kindle every hour for two weeks straight before this bad boy finally popped up and once it did, I stayed up all-night reading it. The dark circles and zombie mindstate was totally worth it and I couldn't have asked for a better ending to Brenna and Jake's story!
Brenna Jensen is not one to be tied down. She takes names, breaks hearts and keeps it moving. But Jake Connelly is the one guy she can't seem to shake and while she tries to hard to resist him, his charm is slowly reeling her in. So when she finds herself between a rock and a hard place, Brenna decides to enlist Jake's help but it comes at a price: for every fake date, he wants a real date with her. Brenna will soon have to decide whether or not Jake's help is worth risking her heart for.
Elle Kennedy truly is the queen of New Adult romances. Like y'all can fight me all you want, but I'm not budging when it comes to that statement. I personally enjoyed The Risk a lot more than The Chase, mainly because I had a stronger connection with our main characters and it did a number on me emotionally (yes I did shed a few tears towards the end!). I also loved some of the new faces we got to see in this book and I won't give too much away but I'm hoping Kennedy keeps one of our potential couple together because I think they're a perfect fit for one another and I would love to see how things turn out for them.
I didn't think that it was possible for me to love Brenna more than I already did, but somehow Kennedy made it happen. From her struggles as a teen to dealing with her strained relationship with her father to questioning her self-worth, watching Brenna just go through all of this and somehow come out on top had me tearing up. I admire her strength so much and found her to be very relatable. Going back to Brenna's strained relationship with her father, seeing these two work through their issues is probably one of my favorite parts of this story. I rarely ever read stories that highlight father-daughter relationships, but Brenna and the Coach had a load of things that they had to work through in order to better their relationship and also seeing Coach break down like that showed him in a whole new light, one that I wasn't expecting and I have a newfound respect for him.
I legit screamed when I found out that Jake would be the hero for this book! I totally felt the chemistry between Jake and Brenna in the previous book so if Kennedy didn't make Jake endgame, I was ready to riot. I love Jake's personality. Like he comes off as cocky but he has this softer side to him and I love it. Not gonna lie, Jake did piss me off towards to end because he was thinking out of his ass instead of his brain, but he managed to turn things around and fix his mistakes. The romance between Brenna and Jake is angsty, mainly because Brenna has things she needs to work through before she can be all in, but it was totally worth the wait! Once that spark became a flame, there was no stopping these two!
The Risk definitely lived up to my expectations and I'm so happy for my OTP! I'm dying to get my paws on the next book in the series and I have a strong feeling that it will be Hunter's story. Whether or not I'm right, one thing I know for sure is that October can't come soon enough!