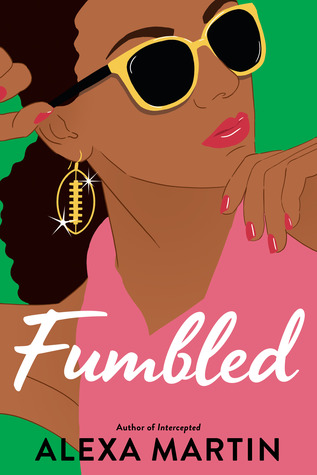 Publication Date:
 April 23
, 2019
Add to Goodreads || Buy on Amazon  
Rating: ★★★★
Synopsis via Goodreads: A second chance doesn't guarantee a touchdown in this new contemporary romance from the author of Intercepted.

Single-mother Poppy Patterson moved across the country when she was sixteen and pregnant to find a new normal. After years of hard work, she's built a life she loves. It may include a job at a nightclub, weekend soccer games, and more stretch marks than she anticipated, but it's all hers, and nobody can take that away. Well, except for one person.

TK Moore, the starting wide receiver for the Denver Mustangs, dreamt his entire life about being in the NFL. His world is football, parties, and women. Maybe at one point he thought his future would play out with his high school sweetheart by his side, but Poppy is long gone and he's moved on.  

When Poppy and TK cross paths in the most unlikely of places, emotions they've suppressed for years come rushing back. But with all the secrets they never told each other lying between them, they'll need more than a dating playbook to help them navigate their relationship.
*I received a copy of this book from the author/publisher in exchange for an honest review.*
When Poppy Patterson left her hometown at sixteen, pregnant and brokenhearted, she didn't look back. Now, she's working a dead-end job to make ends meet to care for her and her son and just when she thinks things can't get any worse, a blast from her past comes walking back into her life. TK Moore, wide receiver for the Denver Mustangs, has moves both on and off the field and he's gonna need to bring his A-game if he wants a second-chance with Poppy. But when a secret is revealed that could make or break their relationship, will hearts be broken once again or will these two finally get the happily-ever-after they've been longing for?
Not gonna lie, I was a bit nervous going into book. While I enjoyed Intercepted, I did have some issues when it came to the writing and the unnecessary use of hashtags. I was hoping that we wouldn't have a repeat of these issues in the sequel and I really think that Alexa Martin listened to reader's reviews because there were none of those issues in Fumbled. I absolutely loved the writing in this book and found it easier to immerse myself into this story! I'm such a sucker for second-chance romances and throw in a cute little kid and yo gurl is sold! 
One of my favorite thing about this book was the female friendships! I was curious to see how Martin would bring together the characters in the first book with those in the second book considering this is the first time we are meeting Poppy and TK and I loved how she managed to bring together all the characters. Seeing Poppy become friends with all the WAGs was so much fun and I liked that most of the women were actually welcoming to her. It's never a boring time when the WAG women get together and some of these women were just too hilarious and they had me cracking up in public. I hope we get to see more of the WAG gang in the next book too and I can't wait to see what trouble they cause.
Poppy is one hell of a woman who didn't let an unplanned pregnancy keep her down. She pushed forward on her own and with some help from her aunt, she was able to raise one talented little munchkin. It took me a very long time to come around to TK. I was not a fan of his character in the beginning and then I slowly started warming up to him in the middle and then I went back to hating him all over again and then somehow ended up being on #TeamTK again. I think what won me over was seeing TK with his son and the effort he put into making up for all the years he missed. The romance was both fun and emotional. Both of our MCs have a lot of baggage they need to work through in order for them to take that next step and I liked that things didn't fall so easily into place for these two. I also really appreciated the fact that Martin tackled the topic of CTE in football and how it can affect a person's life. Poppy really stood her ground when it came to CTE and in the end it paid off.
Fumbled was such a sweet read and I'm impatiently awaiting the final book in this series. Our next couple is one I've been super curious about and I can't wait to see how things play out for these two!