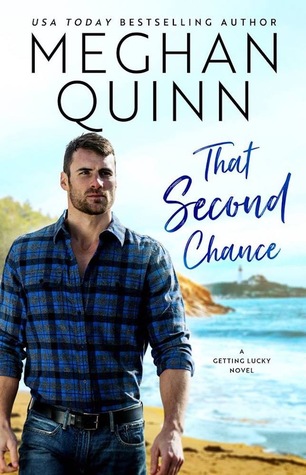 That Second Chance (Getting Lucky #1)
Publication Date: 
May 7, 2019
Publisher: 
Montlake Romance
Rating: ★★★★
Synopsis via Goodreads: USA Today bestselling author Meghan Quinn delivers a smart and cheeky romance about love's power to lift hearts . . . and curses.

It was supposed to be an innocent night, celebrating my brother's birthday. Nothing was supposed to go wrong. We'd vowed to be on our best behavior after all . . .

But it only took one rowdy night with my brothers to flip my world upside down. One unlucky encounter saddled us with a family curse and the promise of doomed relationships. I laughed it off immediately. "Yeah, right," I thought. "A love curse. Ha!"

Boy, was I wrong.

Word spreads quickly in a town like mine; rumors about that night soon made us the most eligible yet untouchable bachelors in Port Snow, Maine. As a subject of endless gossip and speculation, I could kiss my dating life goodbye.

It would have stayed that way if Ren Winters, the new girl in town, hadn't crashed into my life. Brave, beautiful, and smart—her vivacious thirst for a fresh start has given me hope that maybe, just maybe, I can have one too.

Everyone wishes for that second chance . . . but could this really be mine?
*I received a copy of this book from the author/publisher in exchange for an honest review.*
ATTENTION EVERYONE! I have a new Meghan Quinn series to scream about! If you've read Quinn's Dating by Numbers series, particularly the second book in the series, Two Wedding Crashers, then you'll be familiar with the town of Port Snow and the Knightly brothers. Quinn said that these four brothers would all be getting their own stories, but when that was going to happened remained up in the air. Now after a little over a year of waiting, we are finally getting to see what these brothers are all about and my excitement could not be contained once I started this book!
Two years ago, Griffin Knightly lost his wife unexpectedly and believes that her death was due to a curse that had been put on him and his three brothers. To keep from going through that same loss again, he closes his heart off to love and refuses to let himself date any of the women in town. But his plan to stay single is shot to hell when Ren Winters comes crashing—literally—into Port Snow. Griffin refuses to give her the time of day, but Ren  is determined to get under Griffin's armor…and it's only a matter of time until he gives in.
It's been a while since I read a small town romance that gave me so many warm and fuzzy feelings and had me looking like a clown with the cheesy ass grin I had on my face while reading. This book had me wanting to get in my car and drive up to some small coastal town and just stay there for a while. I absolutely adore the town of Port Snow and all the people that inhabit it. These townspeople cracked me up while reading this book because they were always gossiping about Ren and Griffin and starting the most wild rumors about them and I was so entertained by their messy behavior. I also have a new book family that I completely adore and wish to be adopted by! The Knightly family stole my heart and it was never a boring time when everyone got together. Then we have our couple, Griffin and Ren. Griffin is a just the perfect, small-town, boy-next-door type of hero. He was always there to help anyone who needed it around town and he had so much pride for his little town. But I gotta say, Griffin frustrated me at times because he was letting the idea of a stupid little curse hold him back from being happy again and I so wanted to slap some sense into him. Luckily Ren had no problem with knocking some common sense into this broody hero. Ren was like a ray of sunshine to Griffin's cloudy day and she never let Griffin's sour mood drive her away. Ren too has gone through her fair share of struggles which is why she was such a good match for Griffin because she understood that need of starting over and getting a second chance at life. The romance is a slow-burning one and I swear I almost died from all the angst. There was one particular scene where I though Griffin and Ren were finally gonna have their moment and I was holding my breath the whole time and then something interrupted them and I swear to god I screeched so loud. I've never been so stressed in my life by a first kiss scene! All in all, That Second Chance was everything I wanted in a small town romance and I'm excited for what's to come next in this series. I have high hopes for our next Knightly brother and I can't wait to learn more about this grumpy hero.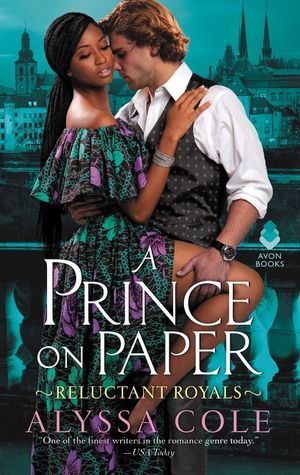 A Prince on Paper (Reluctant Royals #3)
Publication Date:
April 30, 2019
Add to Goodreads || Buy on Amazon  
Rating: ★★★★
Synopsis via Goodreads:  The Reluctant Royals series returns with a good girl searching for the life that's not too big, and not too small, and the bad boy prince who might be just right for her…

Nya Jerami fled Thesolo for the glitz and glamour of NYC but discovered that her Prince Charming only exists in her virtual dating games. When Nya returns home for a royal wedding, she accidentally finds herself up close and personal—in bed—with the real-life celebrity prince who she loves to hate.

For Johan von Braustein, the red-headed step-prince of Liechtienbourg, acting as paparazzi bait is a ruse that protects his brother—the heir to the throne—and his own heart. When a royal referendum threatens his brother's future, a fake engagement is the perfect way to keep the cameras on him.

Nya and Johan both have good reasons to avoid love, but as desires are laid bare behind palace doors, they must decide if their fake romance will lead to a happily-ever-after.
*I received a copy of this book from the author/publisher in exchange for an honest review.*
As someone who wasn't really a fan of royal romances to begin with, the Reluctant Royals series has slowly become one of my favorite series and it's a bit bittersweet to see this series come to an end. Luckily, I still have the two novellas to read so I won't be saying goodbye to this world just yet.
After years of living under her father's control, Nya Jerami is ready to spread her wings and explore life outside of Thesolo. But she's hit with reality when she realizes that things are not always greener on the other side. Months later, she returns home for a royal wedding and finds herself face-to-face with Johan von Braustein, a prince who has a quite the reputation with the ladies. Though she can't stand his arrogance, Nya can't deny her attraction to Jonah so when he asks her to return home with him as his fake fiance to serve as a distraction, she agrees. Between the politics and the paparazzi, Nya soon finds herself actually falling for the red-headed prince but when a messy situation becomes even messier, will Nya be the one left broken-hearted?
I went into A Prince on Paper not knowing what to expect since I didn't read the synopsis beforehand but I was excited to see Nya get her happily-ever-after because she really went through it in the first book and she deserved to find some happiness. I loved being back in this world and getting to see all these characters again. I especially loved seeing all these characters become close friends and seeing Ledi and Thabiso tie the knot. I'll admit, I wasn't a fan of Johan when I first started this book. He was just so arrogant and shallow and I felt like all he was looking for was a good time. I even questioned if he would be a suitable partner for Nya because on paper (see what I did there, lol) they didn't seem like a good match. BOY WAS I WRONG! Johan totally had me eating my words because the whole fuckboy act is all a facade and he's actually such a good person. He loves his family and his country and all of its people deeply and tries to do as much good as possible. Also, can we talk about how protective he was of Nya when anyone said anything bad about her or tried to hurt her. Seriously, it was so precious! Nya is probably my favorite heroine in this series because I found her to be so relatable. She has a lot of baggage after having to deal with her father and his betrayal and she feels guilty even though she's not to blame for her father's actions. I really enjoyed seeing Nya just come into her own skin and start recognizing her self-worth and her voice. Also, Nya being a total gamer was something I didn't know I needed and it totally reminded me of 20-year-old Ari when I was totally obsessed with computer and mobile games. We definitely need more gamer heroines in romance, I'm just saying. The romance was the perfect blend of angsty, sweet and sexy. Nya's "bedroom talk" was gold and those were probably my favorite scenes because they had me laughing and swooning all at the same time. A Prince on Paper was a great wrap-up to this royals romance series and I can't wait to devour whatever Alyssa Cole writes next!