Publication Date:
 September 3
, 2019
Add to Goodreads || Buy on Amazon  
Rating: ★★★★
Synopsis via Goodreads: All's faire in love and war for two sworn enemies who indulge in a harmless flirtation in a laugh-out-loud rom-com from debut author, Jen DeLuca.

Emily knew there would be strings attached when she relocated to the small town of Willow Creek, Maryland, for the summer to help her sister recover from an accident, but who could anticipate getting roped into volunteering for the local Renaissance Faire alongside her teenaged niece? Or that the irritating and inscrutable schoolteacher in charge of the volunteers would be so annoying that she finds it impossible to stop thinking about him?

The faire is Simon's family legacy and from the start he makes clear he doesn't have time for Emily's lighthearted approach to life, her oddball Shakespeare conspiracy theories, or her endless suggestions for new acts to shake things up. Yet on the faire grounds he becomes a different person, flirting freely with Emily when she's in her revealing wench's costume. But is this attraction real, or just part of the characters they're portraying?

This summer was only ever supposed to be a pit stop on the way to somewhere else for Emily, but soon she can't seem to shake the fantasy of establishing something more with Simon, or a permanent home of her own in Willow Creek.
*I received a copy of this book from the author/publisher in exchange for an honest review.*
Brokenhearted and feeling lost, Emily Parker moves in with her older sister and niece in the small town of Willow Creek. Emily hopes that helping her sister get back on her feet after being in a car accident will keep her mind occupied as she tries to figure out her next move. She soon finds herself being roped into the the local Renaissance Faire, playing a bar wench and trying to avoid a moody pirate. But in a small town like Willow Creek, avoiding Simon Graham is gonna be harder than she thinks. As tensions rise between the pair, Emily starts to wonder why Simon hates her so but the answer to that question might not be what she expects. 
Going into Well Met, I really had no clue what this book was about. The only thing I knew was that it was a debut romance and that the story revolved around a Renaissance faire. I personally know nothing about Renaissance faires so that didn't really help my case. But hey, the cover was cute so I could only hope that the story inside would be just as cute.
ME AFTER FINISHING THIS BOOK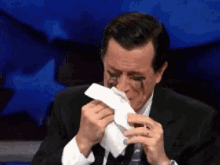 Y'all, I did not expect to enjoy this book as much as I did! Once I started reading, I could not stop and I was anxious to know how this story was gonna end. Set in a small town, I loved how community played such a big role in this story. Everyone in Willow Creek would come together during the summertime to take part in the faire and it would just be a fun event for everyone to enjoy. I really enjoyed getting to learn more about Renaissance Faires and seeing what they entailed. It kind of made me even want to attend a Renaissance Faire one day just to experience it myself. Along with community, family also plays a big role in this story. In the beginning, Emily helps to take care of April who was in a terrible car accident and is slowly getting back on her feet and being able to do things for herself. As the story goes on, we then see Emily start leaning more on April for emotional support and guidance as she struggles to make decisions that will ultimately change her life. Emily and April, rely on each other a lot throughout this book and it ends up making their relationship stronger and brings them closer together.
Let me introduce y'all to my main manz, Simon Graham! Now listen, Captain Killian Jones may not be the ideal Simon but when Simon was in his pirate getup, he was definitely giving up some Killian vibes.
But it was not love at first sight with me and Simon. I initially thought he was a Grade-A asshole because he was hella rude to Emily. He frustrated me for the first half of this book because I couldn't understand why he was so cold. But Emily has no problem giving it back to Simon and she doesn't let him push her around. But grumpy Simon soon turns onto swoon-worthy Simon and I was falling head-over-heels with this man. Turns out Simon is actually super sweet and watching him woo Emily was so cute. Emily on the other hand was very relatable. Emily's main fear throughout this book is that she doesn't want to find herself in a situation again where she's treated as second best. She also struggles with the age old question of "what do I want to do for the rest of my life?". Finding her purpose is another thing that was important to Emily and again I found that to be so relatable because yo gurl has been trying to answer that question of  years now, lol. 
This romance gave me all the feels! It started out angsty with so much sexual tension and then it turns sweet and then I was frustrated but then it all turned sweet again and ahhh, I WAS LIVING! What I found really sweet though was how some individuals in the community also played a role in the romance and getting Simon and Emily together. Nosy townspeople at their best!
All in all, Well Met was an adorably sweet debut romance about family, community and finding love where you least expect it. I definitely recommend picking up this debut if you're in the mood for a cute read and I'll definitely be picking up whatever book Jen DeLuca pens next!